As you know, the microelectronics industry is always growing and changing. We grow and change along with it, staying ahead of the next technological advancements. As we expand our customer base, we expand our customer service reach to ensure we provide support wherever it is needed.
Two New Automated Lines
Our latest venture involves continued expansion of our solution set in the area of fully automated assembly production lines, including complete die attach and wedge bonding. Our most recent customer will be implementing two new production lines in their facility. The first line is devoted to die attach, made up of several machines including our 3880 Die Bonder and GPD dispensers, as well as magazine loaders and unloaders. The second line is dedicated to wire bonding, including an SCI Automation Plasma Cleaner and two 9000 Wedge Bonders, as well as magazine loaders and unloaders.
The value of an in-line system is through higher volume, low-mix assembly of a single type of product with minimal or no product changeover and greater yield due to reduced operator contact with the product and materials. A fixed production rate allows for more accurate production planning and potentially higher throughput. Larger assembly lines can take on such aspects as epoxy curing including in-situ UV, ultra-high accuracy pick and place, heated tools and/or heated stages for eutectic die attach, curing ovens, precision dispensing systems, wafer die ejectors (punch ups), and customized presentation stages for odd-shaped devices.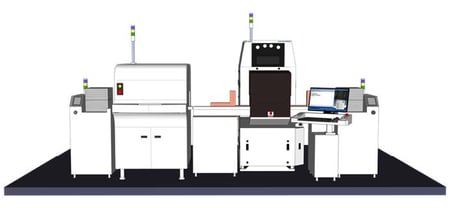 Service Beyond the Purchase
An important part of any purchase is the support received after the purchase. What if you have questions or problems you'd like to resolve? What if you need spare parts? What if you hire new employees that need training? This is why we have field service engineers all over the globe to efficiently support our customers wherever they are in the world.
Additional support options for our customers:
We use our manual and automated process flow expertise to offer complete solutions to any assembly need, including full program management, systems integration, and automation. Contact us if you have any questions about automating your process or for customer support.
Guide to Automated Production Lines




Bonder Training Courses
Data Sheet

Field Services
Data Sheet

----
Tim Hughes
Director of Global Customer Service
Palomar Technologies, Inc.