Hermetic package sealing processes with solder or glass frit are used to isolate critical microelectronic circuits from the surrounding environment. Hermetic packaging materials are usually ceramic or metal and are sealed with a metal solder or solder-glass joint. This keeps moisture and other corrosive contaminants from damaging components and wire bond connections.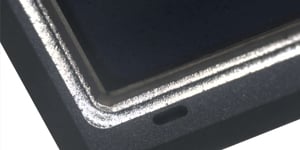 To create a hermetic seal, there needs to be zero breaks in the seal, which essentially requires extremely low voiding with no single void or collection of voids larger than the seal width anywhere within the seal. Placement of the components that make up the seal is also important, as any offset in placement reduces the seal integrity by reducing the overall seal volume, leading to a higher chance of the hermetic seal failure. Just as important for the integrity of the hermetic seal is the free-floating weights, which are part of the tooling. By using precision manufactured fixtures, the components can be held in their designated locations during the sealing process and constant pressure is applied to the seal are, assuring the hermeticity of the interface between the lid and the package.
To ensure that the formed seal is void free, specifically designed thermal profiles are used in conjunction with positive inert gas pressures. The oxygen in the system is also repeatedly pumped out while constantly backfilling with dry inert gas to prevent oxides formation. Voids often come from trapped gas that occurs during the fabrication process of the package and components. Pressure variation helps reduce and practically eliminate voids caused by trapped gas. Pressure variation helps reduce and practically eliminate voids caused by trapped gas. This creates a robust hermetic seal using our vacuum reflow system's unique capabilities.