UV die bonding or UV/Dual cure adhesive attach has the main advantage of being curable in situ, thereby significantly speeding up the entire assembly process and opening up the range of applications to some specific cases. The UV curable adhesives undergo the curing process in the presence of 365nm-400nm wavelength light.
Bonders equipped with these specific wavelength light sources on the bond head can cure the adhesives while the bonder is still holding the component in place, ensuring the highest precision and accuracy independent of the adhesive growth or shrinkage.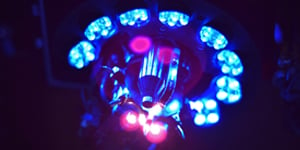 Some adhesives are also dual-cure, or curable through both light and heat or even moisture in some cases. This allows for a quick "tacking" of the component by exposing the adhesive to minimal amounts of light, usually one to two seconds, to maintain the high accuracy of the placement, leaving the final curing to a batch oven process. These dual-cure adhesives can also cure at even lower temperatures than thermally cured epoxies, providing an avenue for extremely thermally sensitive assemblies such as those found in the medical field.
Another aspect of many light cure adhesives is that many are clear. With careful control of the curing process, the adhesive can be used to secure a lens in place via near-encapsulation while still allowing it to function optimally. This careful control of the UV light usually requires a programmable intensity to the extent that a "UV light profile" is created, something which is offered on the Palomar die bonding systems, to ensure the adhesive cures without any defects or "spider-webbing".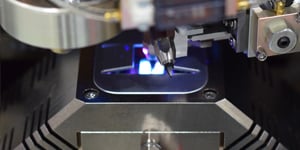 Resources for UV Die Bonding: