Solder paste die attach or reflow attach uses solder paste to attach SMT components. It can be processed at the same speed as epoxy die attach, yet provides the high thermal conductivity needed for the components to function correctly. Solder paste comes in many varieties with the solder type, shape, and size varying for each paste formulation. Typical solder pastes are suspensions of tiny balls of solder in flux that, when brought to the proper temperature, reflow and create a solder joint.
Like epoxy, components placed into solder paste can maintain their position throughout handling and can be reflowed in a batch oven, however, ensuring that the environment is inert is essential to create a good bond. Solder reflow profiles also need to incorporate time before the reflow point to "burn off" the flux that suspends the solder balls.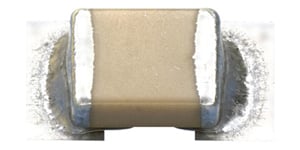 Solder paste is mainly deposited onto the surface through dispensing, which can be through time-pressure, auger pump, or jetting. When dispensed onto the surface, the solder will spread out slightly due to the flux. When the solder is brought to the reflow temperature, it will pull in and create a bond only on the gold surfaces of the board or ceramic, which helps form strong structural bonds that can "reach" up the sides of the components. Solder paste generally reflows at a higher temperature than the curing of epoxies.
This process can also be effectively utilized for flip-chip applications where the solder will surround the joint between the bumps and the pads and create a secure connection. The downside to this movement and tightening of the solder is that some accuracies from the original place may be lost. However, this is not usually a concern as most applications that do not account for this also do not have precise accuracy requirements.