Aluminum wire bonding is a process similar to gold wire bonding but with the critical distinction that the surface does not need to be heated to 150°C or even anything above room temperature. Force and ultrasonics are vital to the formation of aluminum bonds. The creation of an aluminum wire bond is the same as for gold wire, which consists of two attachment points and a specific loop shape. During the attachment steps for the wire, the only factors needed for the bond are force and ultrasonics, as the surface does not need to be heated.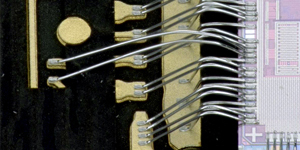 Aluminum wire, like gold wire, provides a strong electrical path for connections between components in an assembly but has some key advantages. Aluminum bonding allows for interconnections to be formed on temperature-sensitive assemblies where the materials cannot withstand the temperatures usually required for gold bonding. Aluminum wire is also much preferred over gold wire on Aluminum surfaces in hermetically sealed packages as the temperatures needed for hermetic sealing can compromise the integrity of Au on Al bonds.
Aluminum wire is commonly used by wedge bonders, and together with gold wire represents the two main material types for wire bonding. Other materials, including some alloys have also been used in some specific wire bond applications for their unique properties. The ability to have the optimal frequency, force, and temperature for any given material is an essential aspect to successful wire bonding. It is something deeply integrated into Palomar's wire bond systems.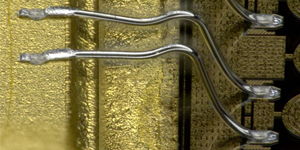 Resources for Aluminum Wire Bonding: