Wedge bonding utilizes a wedge tool to form the stitches on both ends, without the use of a ball for the first bond. The bonds themselves a thin and wedge-shaped. Wedge bonding can utilize both gold and aluminum wire but is more commonly aluminum wire at ambient temperature. The wedge bonding process uses both ribbon or round wire for bonding. Unlike the capillary found on a ball bonder, the wedge bonding tool needs to be oriented in the direction of the bond and as a result, can rotate to bond from all angles. This allows for bonding from any and all angles for a given assembly.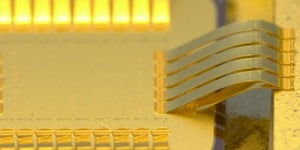 One of the primary advantages that wedge bonding has over wire ball bonding is the ability to make finer pitch applications due to the size of wedge bonds compared to ball bonds. The ability to use ribbon is also critical for some assembly designs where the use of wire would not meet the electrical requirements.
While wire bonding is faster than wedge bonding due to not requiring rotation of the tool, the capabilities of wedge bonding can be so advantageous to necessitate using a wedge bonder. Palomar offers both the 8000i Wire Bonder and 9000 Wedge Bonder to suit all applications.