Ball bumping is an essential process in flip-chip applications as it provides the necessary interconnects between chip and substrate. Ball bumping can be performed at the assembly or wafer level, though it is most commonly done at the wafer level.
Ball bumping shares many similarities with the first step of gold wire bonding, in that a ball is formed at the capillary and is deposited onto the surface with a mixture of force, ultrasonics, and heat. However, instead of forming a loop after attaching the ball, the wire is sheared off just above the ball to form a planar bump on the surface of the part.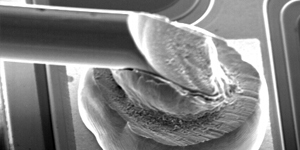 Controlling ball size is vital to this process as it determines the overall size of the bump and is dependent on a reliable bonding process to ensure a consistent wire tail length before each ball formation. If every bump is not consistently well-executed, then there will be significant variations in bump sizing.
Fine application of force is also significant in the bumping process as it determines the shape and height of the bump. Finally, precise determination of the shearing process to separate the wire from the ball is necessary to form consistent height and planar bumps.
Forming consistent planar bumps throughout a wafer is imperative for the assembly processes that will be using these components down the line. Palomar's sophisticated software solution called "Tailless Smooth Bump" provides all of the necessary controls for creating highly consistent shape, size, and planar bumps. This software, combined with the reliability and capability of the 8000i wire bonder, provides the best solution for any ball bumping application.