9000 Wedge Bonder Overview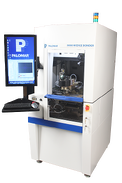 The 9000 Wedge Bonder is a high-speed fine wire wedge and ribbon bonder, offering the flexibility to change wire feed angles to 45-60° or 90°deep access on a single large work area. 
There are 7 key differentiators to the 9000 Wedge Bonder, which help customers achieve modern wedge bond requirements.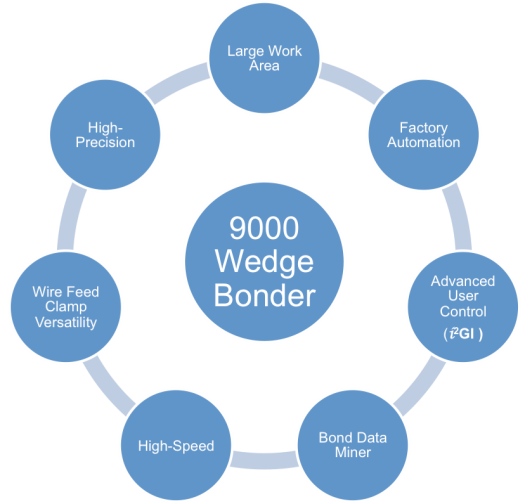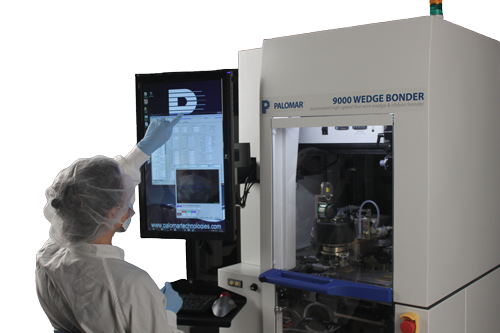 The 9000 Wedge Bonder offers ultimate control and flexibility to change from a 45-60° wire feed range to 90° deep access with only a clamp change on the robust, theta-rotation bond head. No need for multiple expensive bond heads!
LARGE BONDING AREA
305 x 150 mm (12" x 6")
AUTOMATED ASSEMBLY
Material handler options available for full production line assembly. Unheated and heated work stages available.
QUALITY CONTROL
Real-time bond monitoring and process control software. Robust, low maintenance voicecoil bondhead.
BOND DATA MINER™ - comprehensive and centralized data management and analysis system.
Aggregates run data and timestamp data sets.
Process tool analysis.
Machine and process trends monitoring for increased yields and predictive maintenance.
Fine Wire Wedge Bond Applications*
RF-SOE
Disk Drives
Large Complex Hybrids
RF and Microwave Devices
High Frequency Passive and Active Components
MCM Power Connections
Fine Pitch Devices
Running Stitch Interconnects (die-to-die)
Ribbon Bonding
Low Profile Wire Bonds
*partial list
9000 Wedge Bonder Options
Various stages, sizes, and tools

Automated material handlers
Orthogonal bonding (unique angles for bond 1 and bond 2)
Chain bonding (bond – loop – bond – loop –bond)
Multi-user access software
45/60 degree wire clamp
Three entry points for unobstructed access to the complete large work envelope.

1: Part access door


2: Hood access
door

3: Tooling access door
Watch the Video:
Key Features
i2Gi Interface

Mouse-based jog and targeting