Silver sintering die bonding or sintering paste attach is unique from both solder and epoxies; it neither cures nor does it reflow. Silver sintered paste instead goes through a process akin to solid diffusion; that is, the silver particles in the paste diffuse throughout the bonding area to create a strong thermal and electrical connection.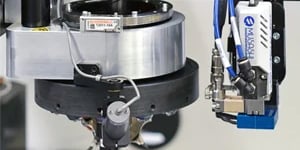 The silver sintering process in the past utilized high amounts of pressure or force to complete the bond, but pressure-less silver sintering proved to be the better solution. This process relies on the unique formulation of the sintering material form a bond that is on par with the thermal and electrical conductivity of solder bonds, without needing to rely on flux or high temperature. There is much less concern about the voiding that comes with soldering processes than that which occurs when the solder liquefies.
Silver sintered paste retains the benefit of epoxy attach, as it holds the component in place for handling and thus increases the total throughput of the process. With all these benefits, the difficulties of using silver sintered paste come from the strict requirements of bond line thickness. The bond line of the silver sintered paste must be well controlled to a high degree of precision. Palomar's die bonders have a dedicated feature to establish tightly controlled bond lines and specially designed tooling plates that can be used to control the bond line in our vacuum reflow systems.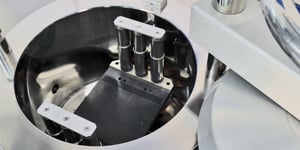 Resources for Silver Sintering Die Bonding: