Laser Focus World recognizes Palomar's achievements for improving technology
Carlsbad, CA – November 19, 2019 – Palomar Technologies, a global leader in total process solutions for advanced photonics and microelectronic device packaging assembly, announced today it has received the 2019 Laser Focus World Innovators Award for the new Palomar 6532HP Die Bonder designed for photonics applications.
Laser Focus World recognized Palomar's 6532HP Die Bonder as a Silver Honoree which is awarded to a very good innovation that resulted in not just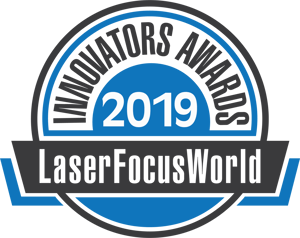 incremental improvement, but in marked improvement over previous methods employed, approaches taken, or products/systems used.
"We are extremely proud to be recognized by Laser Focus World for our work with the Palomar 6532. For over 40 years, Palomar has been innovating and providing technology solutions for the world's leading manufacturers of microelectronics and photonics packaging," said Bruce Hueners, President of Palomar Technologies. "This award is further confirmation of the impact of our work in advancing photonics packaging technology."
Developed for the demanding needs of the optoelectronics industry, the 6532HP exceeds industry standards for placement accuracy, production speed, and high volume capacity. It is based on the proven ultra-high accuracy technology of the 6500 Die Bonder, and is designed for the high production needs of optoelectronic device manufacturers.
The 6532HP delivers 1.5 micron placement accuracy and speeds up to 1200UPH to maximize throughput. Fully automated presentation of dual 8 inch wafers, up to 72 wafflepak/GelPaks™, or tape feeders provides a high production, flexible parts presentation platform. An eight-position, bi-directional tool turret allows "on-the-fly" tool changes to maximize speed and flexibility.
About Palomar Technologies
Palomar Technologies makes the connected world possible by delivering a Total Process Solution™ for advanced photonic and microelectronic device assembly processes utilized in today's smart, connected devices. With a focus on flexibility, speed and accuracy, Palomar's Total Process Solution includes Palomar die bonders, Palomar wire and wedge bonders, SST vacuum reflow systems, along with Innovation Centers for outsourced manufacturing and assembly, and Customer Support services, that together deliver improved production quality and yield, reduced assembly times, and rapid ROI.
With its deep industry expertise, Palomar equips customers to become leaders in the development of complex, digital technologies that are the foundation of the connected world and the transmission of data generated by billions of connected devices. Palomar solutions are utilized by the world's leading companies providing solutions for datacom, 5G, electric vehicle power modules, autonomous vehicles/LiDAR, enhanced mobile broadband, Internet of Things, SMART technology, and mission critical services.
Headquartered in Carlsbad, California, Palomar offers global sales, service and application support from its offices in the USA, Germany, Singapore and China. For more information, visit: http://www.palomartechnologies.com
###
Media Contact:
Rebecca Janzon
Director of Marketing Communications
Email: rjanzon@bonders.com
Mobile: 760-409-7453