Sophisticated, interactive virtual environment for visitors to Palomar's exhibit stand
Carlsbad, CA – July 14, 2020 – Palomar Technologies, a global leader in total process solutions for advanced photonics and microelectronic device packaging today, announced that it is participating in the SEMICON West 2020 Virtual Event from July 20 – 23, 2020.
Visitors to the Palomar exhibit will be able to view a range of product videos on the Palomar Innovation Center contract manufacturing capabilities, the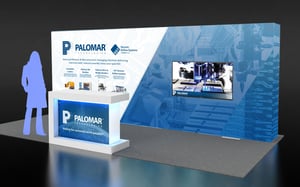 Palomar 3880 Die Bonder, the Palomar 9000 Wire/Wedge Bonder and the SST 8300 Series Automated Vacuum Pressure System. Palomar's team of experts will be available for live chats to answer any questions about the entire range of solutions. Additionally, all materials will be available for download.
"We are pleased to be part of the 50-Year celebration of SEMI, even if we must do it virtually. The VR exhibit environment that Semi has created is very sophisticated and enables us to develop a highly interactive presentation for visitors to the Palomar booth," said Rebecca Janzon, Director of Marketing Communications for Palomar Technologies. "Our virtual booth is a clear extension of our website, and we look forward to an exciting and productive SEMICON West 2020."
Interested parties can register in advance to speak directly to a Palomar expert during SEMICON West at https://www.palomartechnologies.com/events/semicon-west-2020.
Media Contact:
Rebecca Janzon
Director of Marketing Communications
Email: rjanzon@bonders.com
Mobile: 760-409-7453
About Palomar Technologies
Palomar Technologies makes the connected world possible by delivering a Total Process Solution™ for advanced photonic and microelectronic device assembly processes utilized in today's smart, connected devices. With a focus on flexibility, speed and accuracy, Palomar's Total Process Solution includes Palomar die bonders, Palomar wire and wedge bonders, SST vacuum reflow systems, along with Innovation Centers for outsourced manufacturing and assembly, and Customer Support services, that together deliver improved production quality and yield, reduced assembly times, and rapid ROI.
With its deep industry expertise, Palomar equips customers to become leaders in the development of complex, digital technologies that are the foundation of the connected world and the transmission of data generated by billions of connected devices. Palomar solutions are utilized by the world's leading companies providing solutions for datacom, 5G, electric vehicle power modules, autonomous vehicles/LiDAR, enhanced mobile broadband, Internet of Things, SMART technology, and mission critical services.
Headquartered in Carlsbad, California, Palomar offers global sales, service and application support from its offices in the USA, Germany, Singapore and China. For more information, visit: http://www.palomartechnologies.com.