Webinar: April 28, 2021 at 8am PST
Carlsbad, CA – April 12, 2021 – Palomar Technologies, a global leader in delivering total process solutions for advanced photonics and microelectronic device packaging, announced today they are offering a webinar achieving die bonding flexibility for the next-generation of photonics packaging currently in development.
Much of the semiconductor packaging industry is engaged in an exciting and growing photonics ecosystem. Anticipating a seven percent CAGR over the next five years, this clearly outpaces most other manufacturing sectors. The associated challenges of photonics packaging, specifically relating to optical transceivers, include meeting anticipated performance gains while squeezing large package functionality into smaller, more thermally efficient footprints.
Palomar Technologies' 3880 Die Bonder provides the flexibility and versatility to handle the many challenges present in both the current and next generation of photonics packaging. Not only is the 3880 capable of a diverse range of processes from epoxy dispense, to UV snap cure, to eutectic die attach, but can scale with production volume for low volume process development to full-scale high volume production. In this webinar, Kyle Schaefer, Palomar Product Marketing Manager, reviews the challenges of photonics packaging and visits Live with Martyn Davies, New Business Development from Palomar Technologies UK, at the Palomar Demo Lab in the EPIC Center in Paignton, UK. Martyn will provide a live overview of the Palomar 3880 capabilities for photonics packaging.
The webinar takes place on April 28, 2021 at 8am PST. Registration is through the link below:
https://www.palomartechnologies.com/events/WEBINAR-Unparalleled-Die-Bonding-Flexibility-Next-Gen-Photonics-Packaging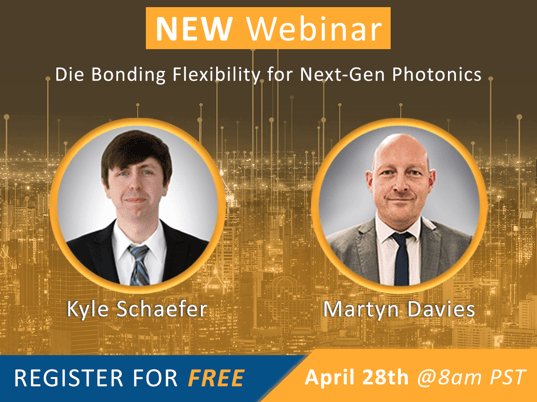 About Palomar Technologies
Palomar Technologies makes the connected world possible by delivering a Total Process Solution™ for advanced photonic and microelectronic device assembly processes utilized in today's smart, connected devices. With a focus on flexibility, speed and accuracy, Palomar's Total Process Solution includes Palomar die bonders, Palomar wire and wedge bonders, SST vacuum reflow systems, along with Innovation Centers for outsourced manufacturing and assembly, and Customer Support services, that together deliver improved quality and yield, reduced assembly times, and rapid ROI.
With its deep industry expertise, Palomar equips customers to become leaders in the development of complex, digital technologies that are the foundation of the connected world and the transmission of data generated by billions of connected devices. Palomar solutions are utilized by the world's leading companies providing solutions for datacom, 5G, electric vehicle power modules, autonomous vehicles/LiDAR, enhanced mobile broadband, Internet of Things, SMART technology, and mission-critical services.
Headquartered in Carlsbad, California, Palomar offers global sales, service and application support from its offices in the USA, Germany, Singapore, and China. For more information, visit: http://www.palomartechnologies.com
###
Media Contact:
Rebecca Janzon
Global Corporate Communications Director
Email: rjanzon@bonders.com
Mobile: 760-409-7453