Although the Palomar Technologies Assembly Services™ group has been around for more than 8 years we often get asked if we know somebody that can do prototyping, process development, or low- to mid-volume contract manufacturing for their particular project.
Assembly Services exists to address those particular needs. We do prototyping for several companies every year, from small startups to major industrial and military
entities. We also do process development for these same types of clients that are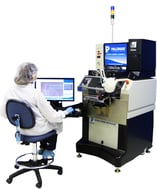 either currently using Palomar Technologies equipment that is busy building production products, or are just not able to dial-in their processes. We can perform DOEs and alternate material processing on similar equipment without shutting down your production to perform these tests.
Assembly Services Capabilities
Assembly Services can also provide contract manufacturing in-house on our equipment for small scale to mid-volume production. Assembly Services has two 6500 high-precision die bonders; one is configured with a pulse heated tool for precision eutectic attach of very small components, and the other can be used for either stage heated eutectic attach or epoxy pin transfer and die attach. We also have several 3800 die bonders with dispense as well as pin transfer, UV cure option, and eutectic reflow for applications that require less precision than the 6500 Die Bonder's capability. Additionally, we have 8000i gold ball bonders for general wire bond applications and ball bumping of wafers or larger individual dies. Finally, we have a 9000 Wedge Bonder for the RF and microwave applications requiring low loops and ribbon bonding.
Assembly Services also has GPD dispense equipment, ovens for thermal cure of epoxy assemblies, and several pieces of test equipment for wire pull, ball shear, die shear and optical measurement equipment.
Assembly Services Customers
Our customers cover a wide range of markets and industries. This includes small startups that need to produce their first product to their customers without having the expense of purchasing the equipment and setting up their own cleanroom, to large military contractors that only build a few assemblies each year. We also serve commercial companies that are either not ready to purchase their own equipment, or do not have the capaicty for their orders to be met with the equipment they do have. We also build production-level assemblies while a customer is awaiting the delivery and production qualification of their own new equipment.
Is your organization in need of contract manufacturing, prototype, or process development support? Learn more about the capabilities of our Assembly Services department here:
----
David Rasmussen
Assembly Services General Manager
Palomar Technologies, Inc.