Focus on Power Electronics Market in Europe
Carlsbad, CA – November 5, 2019 – Palomar Technologies, a global leader in delivering total process solutions for advanced photonics and microelectronic device packaging, announced today that Thorsten Scheidler has joined SST Vacuum Reflow Systems, a wholly owned subsidiary of Palomar Technologies, as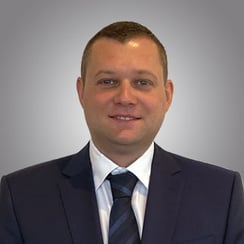 SST Sales Director Europe.
Mr. Scheidler has over 15 years of sales and technical support experience within the power electronics and semiconductor industries in Europe. His primary responsibilities will be in implementing sales strategies to achieve the company's global sales objectives, with a focus on the in ever growing power electronics market.
"Thorsten Scheidler has extensive experience in backend processes for the Power and Automotive Electronics and his experience is aligned with SST's growth objectives in these markets. We are very excited to have Thorsten join the SST sales team," said Rich Hueners, Vice President of Sales & Marketing, Palomar Technologies.
Prior to joining SST, Mr. Scheidler served as Key Account Manager Europe for Kulicke & Soffa Germany GmbH.
About Palomar Technologies
Palomar Technologies makes the connected world possible by delivering a Total Process Solution™ for advanced photonic and microelectronic device assembly processes utilized in today's smart, connected devices. With a focus on flexibility, speed and accuracy, Palomar's Total Process Solution includes Palomar die bonders, Palomar wire and wedge bonders, SST vacuum reflow systems, along with Innovation Centers for outsourced manufacturing and assembly, and Customer Support services, that together deliver improved quality and yield, reduced assembly times, and rapid ROI.
With its deep industry expertise, Palomar equips customers to become leaders in the development of complex, digital technologies that are the foundation of the connected world and the transmission of data generated by billions of connected devices. Palomar solutions are utilized by the world's leading companies providing solutions for datacom, 5G, electric vehicle power modules, autonomous vehicles/LiDAR, enhanced mobile broadband, Internet of Things, SMART technology, and mission-critical services.
Headquartered in Carlsbad, California, Palomar offers global sales, service and application support from its offices in the USA, Germany, Singapore, and China. For more information, visit: http://www.palomartechnologies.com
###
Media Contact:
Rebecca Janzon
Director of Marketing Communications
Email: rjanzon@bonders.com
Mobile: 760-409-7453