Carlsbad, CA – February 25, 2021 – Palomar Technologies, a global leader in delivering total process solutions for advanced photonics and microelectronic device packaging, announced today that SST Vacuum Reflow Systems, a Palomar Solution company is offering a webinar on the typical power module failure modes and how to solve them.
Power Modules is a rapidly growing segment with high-growth applications ranging from electric vehicles, high-speed rail, and large medical devices.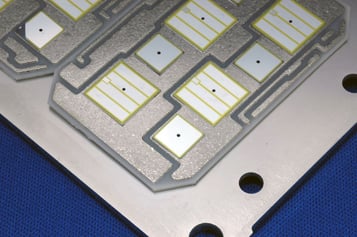 However, the stack of interconnects in power modules are the source of mechanical failures. Removal of heat between the DBC and baseplate is often the main source of thermal mismatches, making voids in this joint the most pressing challenge for power module manufacturers.
SST Vacuum Reflow Systems' Alex Voronel will lead the presentation that will take viewers through the challenges facing the IGBT Power Module device manufacturers outlining the typical failure modes and how to solve them. SST offers a flux-less soldering process resulting in less than 1% voiding using a reliable Formic Acid or Forming Gas option process to improve time to market.
The webinar will take place on March 3, 2021 at 8am PST. Attendees can register for the webinar here: https://attendee.gotowebinar.com/register/8744881480473843728.
About Palomar Technologies
Palomar Technologies makes the connected world possible by delivering a Total Process Solution™ for advanced photonic and microelectronic device assembly processes utilized in today's smart, connected devices. With a focus on flexibility, speed and accuracy, Palomar's Total Process Solution includes Palomar die bonders, Palomar wire and wedge bonders, SST vacuum reflow systems, along with Innovation Centers for outsourced manufacturing and assembly, and Customer Support services, that together deliver improved quality and yield, reduced assembly times, and rapid ROI.
With its deep industry expertise, Palomar equips customers to become leaders in the development of complex, digital technologies that are the foundation of the connected world and the transmission of data generated by billions of connected devices. Palomar solutions are utilized by the world's leading companies providing solutions for datacom, 5G, electric vehicle power modules, autonomous vehicles/LiDAR, enhanced mobile broadband, Internet of Things, SMART technology, and mission-critical services.
Headquartered in Carlsbad, California, Palomar offers global sales, service and application support from its offices in the USA, Germany, Singapore, and China. For more information, visit: http://www.palomartechnologies.com.
###
Media Contact:
Rebecca Janzon
Director of Marketing Communications
Email: rjanzon@bonders.com
Mobile: 760-409-7453