Webinar: June 23, 2021 at 8 am PST
Carlsbad, CA – June 16, 2021 – Palomar Technologies, a global leader in delivering total process solutions for advanced photonics and microelectronic device packaging, announced today they are offering a free webinar outlining how to improve processes and traceability for semiconductor packaging for military and high-reliability applications. The webinar will run June 23, 2021 at 8 am PST.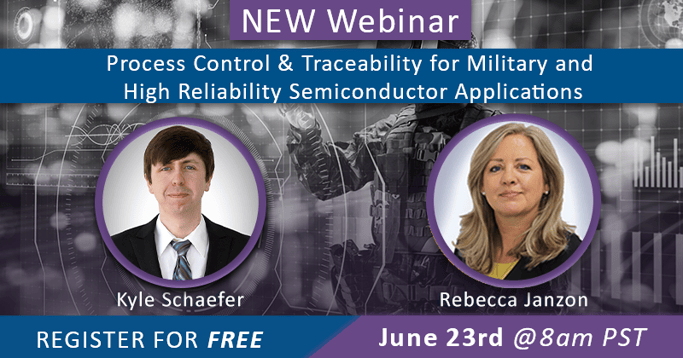 Automated packaging for aerospace and defense necessitates high reliability, as the final assemblies need to function in the harshest environments or play critical roles where failure is not an option. To ensure the assemblies meet the required performance metrics, the modules are tested at key points in their manufacturing process. Should a test fail, in-depth traceability is mandatory to discover a root cause and to disqualify any other potentially problematic assemblies or to rapidly find a solution to prevent further failures. More than just resolving issues after they occur, it is also important to actively monitor the process while being able to alert, reject, or avoid potential assembly process and material issues.
In this webinar: Process Control and Traceability for Military and High-Reliability Semiconductor Applications, Kyle Schaefer, Palomar Product Marketing Manager, will review how to actively monitor the assembly process, how to implement traceability and how automation can bring reliable and consistent results. The techniques available to implement traceability and process control in an autonomous environment will be explored in-depth.
Register for the webinar at the following link: https://attendee.gotowebinar.com/register/6923217214524886031
About Palomar Technologies
Palomar Technologies makes the connected world possible by delivering a Total Process Solution™ for advanced photonic and microelectronic device assembly processes utilized in today's smart, connected devices. With a focus on flexibility, speed and accuracy, Palomar's Total Process Solution includes Palomar die bonders, Palomar wire and wedge bonders, SST vacuum reflow systems, along with Innovation Centers for outsourced manufacturing and assembly, and Customer Support services, that together deliver improved quality and yield, reduced assembly times, and rapid ROI.
With its deep industry expertise, Palomar equips customers to become leaders in the development of complex, digital technologies that are the foundation of the connected world and the transmission of data generated by billions of connected devices. Palomar solutions are utilized by the world's leading companies providing solutions for datacom, 5G, electric vehicle power modules, autonomous vehicles/LiDAR, enhanced mobile broadband, Internet of Things, SMART technology, and mission-critical services.
Headquartered in Carlsbad, California, Palomar offers global sales, service and application support from its offices in the USA, Germany, Singapore, and China. For more information, visit: http://www.palomartechnologies.com
###
Media Contact:
Rebecca Janzon
Director of Marketing Communications
Email: rjanzon@bonders.com
Mobile: 760-409-7453