Carlsbad, CA – March 24, 2021 – Palomar Technologies, a global leader in delivering total process solutions for advanced photonics and microelectronic device packaging, announced today they are offering a webinar on how to balance throughput and process control when manufacturing RF power amplifier assemblies.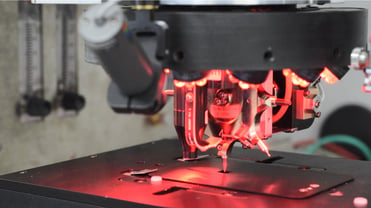 The production of RF power amplifiers necessitates both high volume and high quality. In general, finding a balance between maximizing throughput and meeting the required performance metrics, such as thermal conductivity of the bond between the die and package is crucial in any application, but is especially important in markets with growing demand. As steps are introduced into a process in order to limit failures or better control the essential parameters of an assembly, there will be a corresponding increase in labor, overhead, as well as a reduction in production volume.
Understanding the tools available to mitigate failures and protect against material inconsistencies is a necessary step in finding a balance between throughput and yield. In this webinar, we will be touching on the various process control options available and their corresponding effects on production, both positive and negative. These options will range from process methods, to programming techniques, as well as hardware alternatives, which will all focus on increasing automated process control and limiting the resulting hits to throughput.
Palomar Product Marketing Manager, Kyle Schaefer will lead the presentation at two different times.
The webinars take place on April 7, 2021 at 8am PST and 5pm PST. Registration is through the links below:
April 7, 2021, 8am PST: https://attendee.gotowebinar.com/register/2621740808561172239
April 7, 2021, 5pm PST: https://attendee.gotowebinar.com/register/1974329670429012495
About Palomar Technologies
Palomar Technologies makes the connected world possible by delivering a Total Process Solution™ for advanced photonic and microelectronic device assembly processes utilized in today's smart, connected devices. With a focus on flexibility, speed and accuracy, Palomar's Total Process Solution includes Palomar die bonders, Palomar wire and wedge bonders, SST vacuum reflow systems, along with Innovation Centers for outsourced manufacturing and assembly, and Customer Support services, that together deliver improved quality and yield, reduced assembly times, and rapid ROI.
With its deep industry expertise, Palomar equips customers to become leaders in the development of complex, digital technologies that are the foundation of the connected world and the transmission of data generated by billions of connected devices. Palomar solutions are utilized by the world's leading companies providing solutions for datacom, 5G, electric vehicle power modules, autonomous vehicles/LiDAR, enhanced mobile broadband, Internet of Things, SMART technology, and mission-critical services.
Headquartered in Carlsbad, California, Palomar offers global sales, service and application support from its offices in the USA, Germany, Singapore, and China. For more information, visit: http://www.palomartechnologies.com
###
Media Contact:
Rebecca Janzon
Director of Marketing Communications
Email: rjanzon@bonders.com
Mobile: 760-409-7453