Strengthens Cooperation between Palomar Technologies and EPIC in area of Photonics and Microelectronics
Carlsbad, CA – December 21, 2020 – Palomar Technologies, a global leader in delivering total process solutions for advanced photonics and microelectronic device packaging, announced today that Electronics and Photonics Innovation Center (EPIC) has purchased a fully loaded 3880 Die Bonder. The purchase strengthens the continued cooperation between the two entities in the area of photonics and microelectronics packaging research, which began in 2019.
Josef Schmidl, Managing Director EMEA for Palomar Technologies commented, "By acquiring the Palomar 3880 die bonder, EPIC has put their confidence in Palomar and that our equipment provides the highest quality, flexible electronic packaging solutions to support their growing photonics and microelectronics cluster."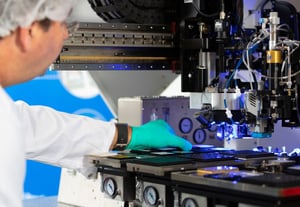 EPIC, founded in 2019, is a center of excellence to support technological innovation and promoting collaborative activity between businesses and research institutions in the area of microelectronics and photonics development. Today, it is home to dozens of leading companies within its facilities and the Torbay Hi-Tech Cluster, a group of internationally recognized companies with renowned expertise in advanced technology research & innovation, developing state of the art hi-tech high value commercial products.
Wayne Loschi, EPIC Centre Director said, "To be able to purchase this capability for EPIC demonstrates our ambitious plans to become a globally recognised centre for photonics and microelectronics. Palomar have been exceptionally supportive and have placed an in-house engineer within the centre to support EPIC tenants. This is an amazing asset to assist the technical needs of our businesses."
About Palomar Technologies
Palomar Technologies makes the connected world possible by delivering a Total Process Solution™ for advanced photonic and microelectronic device assembly processes utilized in today's smart, connected devices. With a focus on flexibility, speed and accuracy, Palomar's Total Process Solution includes Palomar die bonders, Palomar wire and wedge bonders, SST vacuum reflow systems, along with Innovation Centers for outsourced manufacturing and assembly, and Customer Support services, that together deliver improved quality and yield, reduced assembly times, and rapid ROI.
With its deep industry expertise, Palomar equips customers to become leaders in the development of complex, digital technologies that are the foundation of the connected world and the transmission of data generated by billions of connected devices. Palomar solutions are utilized by the world's leading companies providing solutions for datacom, 5G, electric vehicle power modules, autonomous vehicles/LiDAR, enhanced mobile broadband, Internet of Things, SMART technology, and mission-critical services.
Headquartered in Carlsbad, California, Palomar offers global sales, service and application support from its offices in the USA, Germany, Singapore, and China. For more information, visit: http://www.palomartechnologies.com
About the Electronic and Photonics Innovation Centre (EPIC)
EPIC is managed by TDA, a trading name of Torbay Economic Development Company Limited. As a Centre of Excellence, EPIC will provide the ideal environment for both small and large technology companies within the sector. The Centre will provide opportunities for collaboration, R&D, design, new product development. The facility has established links with academia and research institutes, and other European clusters as well as looking to develop global partnerships. Companies wishing to benefit from the world class facilities at the White Rock site, should contact the Centre Director Wayne Loschi on wayne.loschi@tda.uk.net. For more information, visit: https://epic-centre.co.uk/.
###
Media Contact:
Rebecca Janzon
Director of Marketing Communications
Email: rjanzon@bonders.com
Mobile: 760-409-7453