Assembly Services has two separate processes available for eutectic bonding available in our lab. We can utilize our 3880 or 6500 Die Bonder with a Pulsed Heat System, or our SST 5100 Vacuum Reflow Oven. Each process has its advantages and specific uses.
Eutectic Die Attach
Low void eutectic die attach is key to the reliability of many advanced microelectronic products. This assembly process is used when heat must be transferred away from the die or other critical components to avoid thermal failure. The presence of voids increases the die operating temperature by inhibiting efficient heat transfer through the thermal interface material (TIM). Voids may be created by flux residue, surface oxides, trapped gas and poor wetting.
The Pulsed Heat System (PHS) on the 3880 Die Bonder will achieve low void (90%+ void free) with a placement accuracy of 7-10 microns. This is great for good thermal transfer of power transistors and MMIC on shim type applications. The PHS on the 6500 Die Bonder is capable of the same low void with a much higher placement precision of +/-1.5 microns. This is required for precision optoelectronics using edge emitting laser.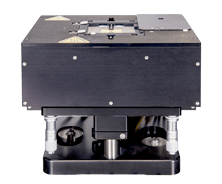 The Pulsed Heat System enables two proven methods to meet device packaging accuracy and throughput requirements:
Scrubbing
The scrubbing method involves cyclically moving the die back and forth, left to right or horizontally. Scrubbing requires eutectic die collets— which are typically composed of tungsten carbide—with either two or four slanted sides to support the die by the edges. If the number of scrubbing cycles and displacement are programmable, this option offers great flexibility. This helps minimize voids.
Temperature Control
The temperature controller is a low-mass conductive strip which provides the additional heat needed for solder reflow. This allows for fast heating and cooling of the eutectic profile and active gas cooling.
The SST 5100 is a vacuum and pressure furnace that provides precise automatic control of heating and cooling ramp rates. This system allows for heating up to 500°C and cooling in an inert gas environment from vacuum levels below 50 millitorr to pressures up to 40 psig. The system is designed for high production flux-less near void-free soldering (better than 97% void free).
SST's equipment and processes minimize voids through the precise control of vacuum levels, positive pressures and thermal profiles. Typical applications include the manufacture of monolithic microwave integrated circuits (MMIC's), high power semiconductor modules, concentrated photovoltaic (CPV) solar cells, laser pump diodes, automotive rectifier diodes and microwave amplifiers.
Hermetic package sealing processes with solder or glass frit are used to isolate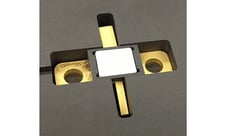 critical microelectronic circuits from the surrounding environment. Hermetic packaging materials are usually ceramic or metal and are sealed with a metal solder or solder-glass joint. This keeps moisture and other corrosive contaminants from damaging components and wire bond connections. Using fixtures which precisely locate package components, and applying precise thermal profiles in vacuum and positive inert gas pressures, SST's equipment creates a hermetic seal between the package seal ring and the lid, which will meet the requirements of MIL-STD-883. Typical applications include the manufacture of military electronics, space-rated components, implantable medical devices, precision timing circuits and micro-electro-mechanical systems (MEMS).
The SST 5100 also utilizes graphite tooling to process multiple assemblies in one reflow cycle. This provides the best thermal transfer and long tooling life. The disadvantage is that there is no way to precisely place the components. The graphite has machined pockets that hold the components to be assembled. The pockets must be made to hold the parts with the largest possible component tolerance. Thus, if your components have a +/- 25 micron manufacturing tolerance then the components cannot be placed any better than +/-25 micron.
Download these resources for more information on eutectic die attach processes:

| | | |
| --- | --- | --- |
| Graphite Tooling Data Sheet | SST 5100 Data Sheet | Pulsed Heat System Data Sheet |
| 3880 Die Bonder Data Sheet | 6500 Die Bonder Data Sheet | Eutectic Die Attach eBook |
----
David Rasmussen
Assembly Services General Manager
Palomar Technologies, Inc.