In today's busy world, figuring out how to maximize the hours in each day and save time have become high priorities. For instance, nobody wants to waste time going to the pet store to pick up dog food, then the pharmacy to pick up a prescription, and then the grocery store to buy dinner for that evening. We need to get the most out of our time and maximize efficiency so that we have more hours in the day to focus on other priorities. This is a major reason why stores like Walmart and Target have become so popular in the last several years—all it takes is a trip to one place where all of these things can be accomplished.
The same rings true in business. Recently, one of our account managers was at a trade show when an engineer stopped by to tell him that he was looking to put together a set of equipment for complex parts that required high accuracy and deep access. He also said that versatility was very important as he had a high mix of parts and never knew what the next year might bring. He specifically said that he was looking for a vendor that could provide a total solution—a one-stop shop for assembly and packaging, if you will. Does this sound like a need that your organization can relate with?
The engineer at the trade show was asked about the type of capabilities he would need. He ticked off the list: epoxy dispense, die attach, plasma clean, wire bond, pull and shear tester. The account manager's response: You have come to the right place!
Diverse Markets Served
Palomar Technologies has always served the high accuracy and deep access markets, as well as focusing on large area and versatility. These are four characteristics that our customers would immediately associate with our products. Palomar's fully-automated products assist component manufacturers in the wireless, photonics, microwave, photovoltaic, computer, automotive, aerospace and medical industries.
The Total Package
While we provide some of the key systems to the "total solution" with our wire bonders and die bonders, there are some areas in which we do not necessarily manufacture the equipment ourselves. Thus the reason why we have formed trusted alliances with companies such as GPD Global for dispensers, Royce Instruments for die sorting and bond pull and shear testing, Hybond for manual bonder solutions, and SCI Plasma for plasma cleaning solutions. This allows us to provide the total solution at a one-stop shop.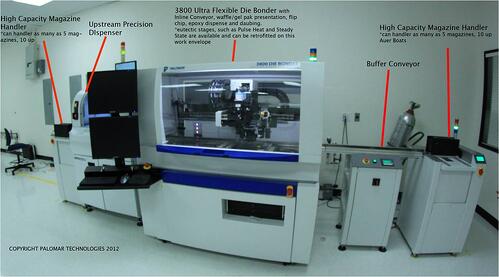 Custom integration of multiple machines and processes into a complete automated assembly line allows the Palomar Technologies system user to deliver a simpler and more powerful solution. Customers find this solution easier to install, maintain and operate.
To learn more about our Alliance partners, download these resources:

| | |
| --- | --- |
| Royce Instruments Data Sheets | Hybond Data Sheets |
| SCI Automation Data Sheets | GPD Global Data Sheets |
---
Dale Perry
Regional Account Manager, Eastern Americas
Palomar Technologies, Inc.