With over 30 years in the business, Palomar Technologies and Royce Instruments both have a rich history of microelectronics equipment design, manufacturing, and production. In the late 1990s, they began to collaborate, developing motorized die eject stages and eject heads for Palomar bonding systems based on Royce's die eject technology. By 2009, Palomar and Royce had become OEM partners, offering customers a unified solution to their advanced packaging needs.
Today, Palomar and Royce products continue to complement and add value to each other's product lines. Royce's die sort systems remove die from wafer to prepare die for bonding. The semi-automatic Royce DE35-ST allows operators to inspect all die surfaces prior to placement in output trays. Die can be sorted into different trays based on inspection results or by product ID in the case of multi-project wafers with complex reticles. The Royce MP300 is engineered for automatic die sort and die binning from wafer map, easily incorporating upstream processes such as wafer probing, electrical testing or a visual inspection. Once devices have been sorted into trays by bin, the MP300 automatically generates a log file detailing die placement from the map to tray, providing die traceability. Once die have been placed to waffle packs or Gel-Paks, they are ready to be loaded into Palomar's 6500 Die Bonder or the new Palomar 3880 Die Bonder to attach individual devices to the substrate or package.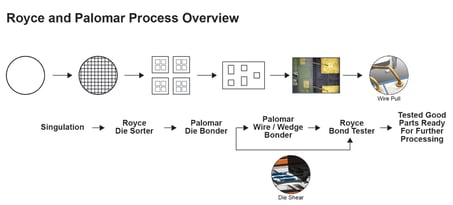 Two-System Solution
While Palomar's die bonding systems also offer options for picking die from wafer and directly bonding, a Royce and Palomar two-system solution offers several advantages. The first advantage is increased efficiency. Ejecting die from wafer remains one of the most time consuming aspects of the process. As die becomes thinner and more fragile, more time is required to peel die off the wafer without breaking the die. By ejecting die offline on the Royce Die Sorter, the Palomar Die Bonder is able to operate at maximum efficiency. The second advantage is in valuable real estate savings on the Palomar Die Bonder. Loading from 2" or 4" waffle packs or gel-paks instead of 8" or 12" wafers provides more physical space for die bond options and input/output placement area. Finally, a Royce/Palomar two-system solution maximizes up-time through simultaneous operation. While one system is undergoing input/output changeover, the other system can still remain running.
Once the devices have been bonded, the Palomar 8000i Wire Bonder or the Palomar 9000 Wedge Bonder can attach wire interconnections within the part. The Palomar i2Gi® software platform allows intuitive control and optimization of the bonding process, which can then be verified using the Royce 600 Series Bond Testers. Royce testers offer wire pull (destruct and non-destruct), ball shear, wedge shear, and die shear test capabilities, with automatic data, image and video logging. A PDF Quick Report with test pass/fail information and statistical process control data and graphs provides a record of die quality and wire/wedge bonding to accompany the part as it moves to the next stage of the packaging process.
The complementary nature of Palomar and Royce products, coupled with their worldwide technical strength, offers customers a seamless backend process from wafer to bonded part. The companies' sales and technical teams work together to offer a bundled solution with one point of contact for the entire process. Their technical experts combine an understanding of the entire packaging process with attention to all the details along the way. Ultimately, a Palomar and Royce solution benefits the customer, providing a quality packaging process that will continue to evolve as their processes change in the future.
Download these resources from Royce and Palomar for more information on the total solution:
Royce Instruments
Data Sheets

Introduction to Automated & Semi-Automated Die Sorting eBook

3880 Die Bonder
Data Sheet



6500 Die Bonder
Data Sheet

9000 Wedge Bonder
Data Sheet

8000i Wire Bonder
Data Sheet

----
Palomar Technologies would like to thank Sarah Parrish and the Royce Instruments, Inc. team for guest blogging this week. Together, Palomar and Royce offer customers a complete view of the reliability and quality of wire bond and die attach applications.
For more information on the Royce Instruments product line of US designed and manufactured bond testers and die sorters, please contact Sarah Parrish, Sales Applications Engineer, at sparrish@royceinstruments.com; or visit Royce online at www.royceinstruments.com.