Carlsbad, CA—March 8, 2017—Palomar Technologies, the world-leading provider of precision microelectronics and optoelectronic packaging systems, today announced they will be exhibiting at SEMICON China at the Shanghai New International Expo Centre in Shanghai on March 14-16 in booth #4543. Be First Technology Co. Ltd will be representing Palomar at the show, alongside some key members of the Palomar and SST Vacuum Reflow Systems teams. The 3880 Die Bonder, as well as the SST 5100 Vacuum Pressure Furnace will be showcased at the booth; SST will also be launching a new product at the show.
Talk With Palomar About Die Bonding
The 3880 Die Bonder is the next-generation die bonder with an improved bondhead design, integrated with a Z-Theta leveling mechanism and high speed bi-directional 8-tool turret. Because of the 3880's inherent highly repeatable planarity feature, wide force range, and fast tool change, customers in the optoelectronic and RF/wireless device packaging markets have seen the greatest increases in performance and throughput.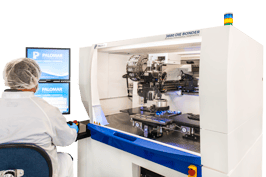 SST Vacuum Reflow Systems
Exhibiting with Palomar at SEMICON China will be SST Vacuum Reflow Systems. Palomar acquired SST in March of 2015, and have been actively integrating the SST solutions within Palomar's suite of advanced packaging and assembly products. A critical feature of SST's unique position is its expertise in designing and
machining graphite tooling plus process expertise. With refined process expertise, SST provides a void-free eutectic attach, hermetic package sealing, glass to metal sealing, and wafer level bonding. The Model 5100 is a vacuum and pressure furnace that provides precise automatic control of heating and cooling ramp rates. Be sure to stop by the booth to see this system live, along with their newest product addition.

About Palomar Technologies
Palomar Technologies, a former subsidiary of Hughes Aircraft, is the global leader of automated high-accuracy, large work area die attach and ball and wedge wire bonding equipment and precision contract assembly services. Customers utilize the products, services and solutions from Palomar Technologies to meet their needs for optoelectronic packaging, complex hybrid assembly and micron-level component attachment. For more information, visit www.palomartechnologies.com.
About SST Vacuum Reflow Systems
SST Vacuum Reflow Systems is widely recognized as an innovative leader in the development and application of microelectronic package assembly equipment and technology. For over fifty years, SST has provided flux-free and void-free soldering, brazing, glass-sealing and wafer bonding equipment to the worldwide electronics industry. SST's team of leading engineers and technologists are constantly advancing state-of-the-art microelectronic package assembly techniques, processes and equipment. For more information, visit www.sstinternational.com.
###
APAC Contact
Mr. PH Chan
Director of North Asia Sales
Palomar Technologies (S.E. Asia) Pte Ltd | (+65) 6686-3096
Media Contact
Katie Schirmer
Marketing Communications Manager
Palomar Technologies, Inc.
kschirmer@bonders.com | +1 760.931.3680