The advancements in user interfaces of devices from cell phones to automobiles seem to increase in terms of capabilities on a daily basis. The advancements of the user interfaces of the bonders at Palomar Technologies have been so great that someone who was using a Palomar system several years ago may not recognize many of the new features on a present day system. Palomar strives to pave the way for new software releases that are easy to implement and to incorporate existing programs. The older systems can be upgraded through Bonder Performance Upgrades (BPUs). We are always looking to incorporate new features and improve our software and user interfaces.
Intelligent Interactive Graphical Interface® (i2Gi®)
i2Gi has saved programmers hours of programming time by offering intuitive interfaces on our 8000i Wire/Ball Bonder and 9000 Wedge Bonder. Customers who have made the upgrade from the earlier "Part Tree" style of programming to i2Gi could not be more satisfied; the more complex the program, the more the customer benefits from i2Gi. i2Gi keeps the familiar Part Tree Display, but compliments it with a Part Graphical Display (PGD) which provides a 2D view and true graphical representation of the complete part and updates in real time during program run. It also allows you to hover over a specific part element to initiate a pop-up image of the learned reference removing any confusion about what was taught as a reference. The third part of i2Gi is the Video Graphical Display (VGD). This displays live video with the Cognex® Vision System while also showing a graphical, real-time overlay. All three aspects of i2Gi are linked, so if for example you click on a wire in one display, it also highlights that wire in the other two displays.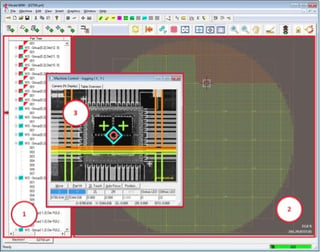 VisionPilot® with Radar Referencing®
As Cognex (our partner for vision and pattern recognition) improves their capabilities, we are always looking to incorporate those improvements into our wire and die bonder capabilities. This is where VisionPilot comes in; VisionPilot utilizes advanced geometric pattern matching technology to reliably and accurately locate parts. This exclusive Palomar Technologies software can significantly reduce or eliminate fixturing requirements and cost. For locating parts or features, Radar Referencing—built upon Cognex PatMax®—uses a set of boundary curves that are not tied to a pixel grid, and then looks for similar shapes in the image without relying on specific gray levels. The result is a revolutionary improvement in the ability to accurately find objects despite changes in angle, size, and shading.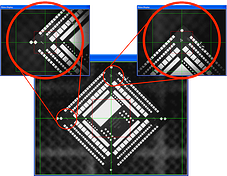 VisionPilot provides the ability to accurately find die despite changes in angle, size, and shading. It is easy to incorporate into new or existing programs. The existing programs can remain the same and an additional Radar Referencing location can be added. VisionPilot enables single-point referencing on randomly orientated small die in one field of view. This can also be used as a single-point reference on randomly orientated large die with unique features in one field of view.
See last week's blog for more on the expanded die and wire capabilities of VisionPilot.
i2Gi: Intelligent Interactive Graphical Interface Data Sheet


VisionPilot
Data Sheet



---
Dale Perry
Regional Account Manager, Eastern Americas
Palomar Technologies, Inc.