In our last blog on combining bonder and vacuum reflow technologies, we presented a case for how to combine these technologies to manufacture successfully high-reliability LED packaging.
In this blog, we present another example of semiconductor packaging that utilizes a range of technologies to complete the entire packaging assembly process. In this case study, we review high-reliability optical transceivers, which include VCSELs, photodiodes, other components, which are wire bonded and hermetically sealed under glass.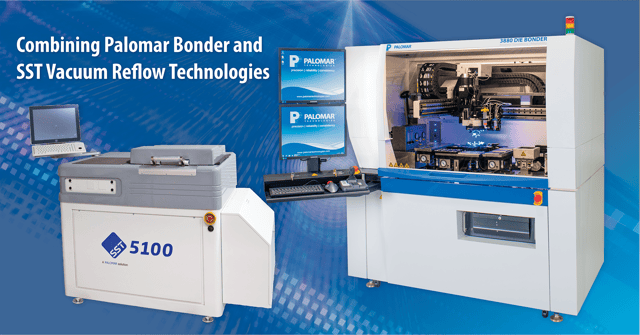 Case No. 2: High-reliability optical transceiver packaging
In a relatively straightforward optical transceiver packaging process, the process is as follows:
Step 1 starts with the placement of VCSELS and photodiodes. The alignment tolerances for placement of VCSELs and photodiodes relative to each other are critical and quite stringent. These are critical because the downstream microlens alignment requires the VCSEL emission and the photodiode be positioned within the tolerances of these fixed lenses. This VCSEL-photodiode placement is performed on the Palomar 6500 Die Bonder, which provides a balanced combination of accuracy, speed, and flexibility in a compact system footprint.
Step 2 involves the placement of passive components. These placements still require high-accuracy, but are closer to +/- 10um. The high-density package requires very tight control/consistency of epoxy and placement, so epoxy daubing is used. For this process, a Palomar 3880 Die Bonder is used due to its high level of versatility to perform both eutectic and epoxy die attach, flip chip, as well as a range of options in a single machine.
Step 3 includes either wire or wedge bonding. Wire bonding is used to create electrical interconnects for most of the passive components. For a better signal-to-noise ratio, fine ribbon is used for the optical interconnects from the ICs to the optical components (VCSELs and photodiodes). The Palomar 8000i automated, thermosonic ball-and-stitch Wire Bonder provides accurate wire bonds, and the Palomar 9000 high-speed fine Wire Wedge and Ribbon Bonder is used for the fine ribbon.
(At our Innovation Center USA, we found that using reverse stand-off stitch provides better control of the total height/profile of the wires in the package.)
Step 4, and the final step, includes the hermetic sealing of the lensed TO cap or window lids. A lensed cap is placed over the package, and the joint is sealed using AuSn eutectic solder. An SST 5100 Vacuum Pressure Furnace is used to create a hermetic seal of the package because of its ability to create void-free solder joints without the use of flux, resulting in high-reliability electronic components.
Palomar's Innovation Centers in California, Singapore, and the UK provide high precision die attach, Au/Au ball-wedge bonding, void-free die attach, and hermetic sealing. Along with additional supporting equipment, including pull/shear testing, thermal curing oven, plasma cleaning, CSAM, X-ray, and 3-D measurement in one place. Through our solutions (Palomar die, wire, and wedge bonders and SST vacuum reflow systems), combined with partnerships, we deliver these solutions as part of our standard packaging assembly process.
For more information about our Palomar Innovation Centers, contact your Palomar or SST sales representative.
Download these resources for more information: