Downey, CA – July 6, 2016 - As part of Palomar Technologies total solutions for eutectic die bonding and advanced packaging systems, SST Vacuum Reflow Systems will be displaying its products and services at SEMICON West in booth #5952 at Moscone Center in San Francisco, CA on July 12-14, 2016.
SST will be introducing QuikCool, an auxiliary unit that rapidly cools a vacuum chamber, thus decreasing cycle time and increasing production throughput. The new auxiliary cooling system is an option for the Model 5100 Vacuum Pressure Furnace. The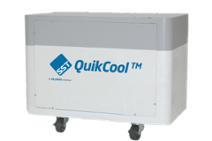 QuikCool system was a response to customers who wanted to know how they could increase batch production throughput, thus reducing costs and increasing the volume of units produced. By quickly reducing the chamber's temperature after reflow, process cycle time is reduced, thus allowing more production cycles per hour.
Palomar Technologies Demos
Also being demoed at the booth will be Palomar Technologies' 3880 Die Bonder and 9000 Wedge Bonder with inline handlers. The 3880 Die Bonder features a fully integrated Z-Theta bidirectional bond head enabling reduced maintenance and uniformity across a wide range of applications. The 9000 Wedge Bonder offers ultimate control and flexibility to change from a 45-60° wire feed range to 90° deep access with only a clamp change on the robust, theta-rotation bond head.
Be sure to stop by the booth if you are visiting SEMICON West, check out a demo, and speak with our experts about your application challenges.
About SST
For over 50 years, SST Vacuum Reflow Systems has designed, manufactured, marketed and supported equipment, tooling and services for thermal processes used in the assembly of microelectronic devices. Based in Downey, Ca., all SST equipment is designed and made in the USA, and is sold and serviced globally. SST International is a wholly owned subsidiary of Palomar Technologies of Carlsbad, Ca.
About Palomar
Palomar Technologies, formerly a division of Hughes Aircraft, is a world leader in specialized advanced microelectronic packaging solutions. These solutions are created for leading edge customers and are enabled by Palomar's synergistic equipment and services portfolio. The unique value we provide is our deliverable to the customer: advanced process development with a seamless transition to volume production.
###
Media Contact
Julia Picarelli
Admin. Services Manager & Marketing Specialist
SST Vacuum Reflow Systems
jpicarelli@sstinternational.com | +1 562-401-9247