Today, Singapore, London and Dubai lead the world when it comes to powering a world-class smart nationi, bypassing tech-savvy capitals like New York, Paris and Beijing.
Singapore has been consistent in its efforts to deploy disruptive technologies to improve the life of citizens in areas such as mobility, transportation, energy, education, healthcare and public services. It is at the helm of developing these innovations, and today, it is common to see and hear of driverless cars, video streaming networks, telemedicine, and the coming roll out of 5G servicesii.
A critical component, and game-changing initiative for Singapore is its Smart Nation initiative which addresses a wide range of urban issues linked to high-density living and promotes the use of Internet-of-Things (IoT). IoT is not a new idea; but what is

new is conceiving it on a massive, wholly interconnected scale (referred to as "massive IoT" or MIoT). MIoT enables devices to connect and communicate so they can function as a whole, interconnected system, sending information, gathering data via sensors and sending streams of information to a central point for computation. Driven by software, computation gives the MIoT data meaning, and meaning is the basis for next-step decision-making.
As cities around the world push on with ambitious plans, and more devices become connected, the capacity demand on networks will continue to grow. The reality of both increased demand for faster connections, and higher bandwidth to handle the larger volumes of data passing through networks must be met with attractive solutions.

The Building Blocks of Smart Cities

Enter photonics—often heralded as the next era of computing. With this technology, photons replace electrons to offer light-speed and super-energy-efficient data processing. With MIoT, Netflix, Facebook, YouTube and other bandwidth consuming Internet sites are growing by a capacity of a factor of 2 per year. The total amount of data generated by any device will reach 847 zettabyte (10007bytes) per year by 2021, up from 218 ZB per year in 2016iii.
By 2025, data centers are expected to consume 4-5% of the world's electricityiv. The energy required to power and connect our technology is enormous, hence why it is essential that adoption of higher-speed more efficient technology take place.
As we move into the Smart City era, efficiency and capacity of the data centers and supporting infrastructure will become increasingly the subject of focus. Microelectronics will still have a place in our technology world, but photonic technology is set to take flight.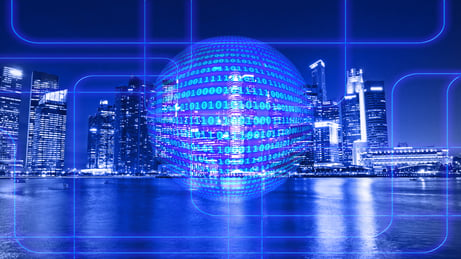 For a start, making applications more energy efficient is a key benefit of photonics. The most advanced microelectronic chips can consume a picojoule (one million millionth of a joule, or 10-12 joule) when processing a bit of data. With photonics, less than a femtojoule per bit is produced, a factor of a thousand less energy demand.
Beyond energy, photonics brings cost efficiencies to several industries. With photonic technology, a single-circuit radar unit using light waves (instead of radio waves), called LiDAR can be built. This is vital for autonomous cars, enabling 3D vision of its surrounding environment. While LiDAR has been around for many years, it is just now coming to market at a price point that meets the needs of the automotive industry for mass production while still maintaining high reliability performance needed to protect lives. Photonics has applications in aircraft safety and maintenance, delivering higher quality and lower cost monitoring systems. For example, in an aircraft sensor system, a photonic integrated circuit attaches to optical fibres to 'sense' aspects of the airplane wing, loading volume, and can extend itself to measure strain and stress turbine blade.
The same principle of efficiency applies to the upcoming 5G network. Wireless base stations will be ubiquitous, smaller, less energy intensive, and able to handle higher volumes of traffic at the ultra-high speed of the 5G network. In preventive healthcare, detecting illnesses such as cancer at an early stage and at a low cost is critical to realizing quality health care for a greater number of people. Optical Coherence Tomography (OCT) is a good example of photonics at work, helping health practitioners conduct highly accurate, non-invasive diagnostic and detection procedures often in an outpatient setting. Photonic sensor systems have made it possible to capture, and analyse information about patients, populations and the environments they live in, in a high quality yet still cost-effective manner.
Solutions for Manufacturing Photonics Devices
Palomar Technologies is uniquely positioned to enable the development needed for photonics chip packages. Over the course of our 40 years of industry knowledge and experience we have helped our customers to become leaders in the development of complex, smart devices that are the foundation of the connected Internet of Things and the transmission of the data generated by billions of connected devices. We've supplied equipment, as well as manufactured advanced photonics devices since the early 2000's. Out latest solution, launched last year is the 6532HP die bonder.
The Palomar 6532HP Die Bonder builds on Palomar's proven 1.5 micron ultra-high accuracy capability by joining it with unparalleled speed and efficiency: melding a 1200 unit per hour (UPH) production capacity and with a dramatically lower MTBA (mean time between assists). This breakthrough is achieved using a high-speed bi-directional 6-tool turret and continuous bonding automation technology. Wafer Presentation, Epoxy Dispensing and Stamping, Flip Chip and Eutectic processes are all available on this platform. We believe it to be the most cost-effective-per-device machine available.
The 6532HP is ideal for QSFP, SFP, CFP2 packaging, VCSEL modules and P-side down laser diodes. Equally, any scalable high-accuracy die attach requirement, MEMS, Ultra-fine pitch hybrid assemblies or flip chip applications.
Photonics Powers the Future

In physics, we know that nothing moves as fast as the speed of light. With such enabling properties, photonics is poised to become the cornerstone for all Smart cities. Ahead of us is a future with many devices, applications and connections that stand to benefit from the speed and energy efficiency offered by photonics.
The possibilities of photonics are limitless, and integrated photonics are on the verge of making massive IoT an everyday norm.
It is time for businesses and the nation to realise that photonics is everywhere, and coming at us with the speed of light.
Contact Palomar's Innovation Centers to tell us about your packaging needs.
Download these resources for more information:
| | |
| --- | --- |
| 6532HP Die Bonder Data Sheet | Photonics Contract Manufacturing Brochure |
| | |
----
Rich Hueners
Vice President of Sales and Managing Director of Palomar Technologies South East Asia
[i] https://www.smartcitiesworld.net/news/news/singapore-tops-the-smart-city-rankings-2875
[ii] https://www.cnet.com/news/singapore-first-5g-pilot-network-to-launch-by-q4/
[iii] https://www.upsite.com/blog/storage-capacity-continues-to-increase-how-it-may-impact-data-center-design/
[iv] https://data-economy.com/data-centres-world-will-consume-1-5-earths-power-2025/