Palomar has successfully worked with the global contract manufacturer Fabrinet over the last several years, working with our mutual customers to provide equipment and developed processes to successfully transition into manufactured goods. Many of these products started as prototypes in Palomar Technologies' Assembly Services department where the designs were validated for functionality. These were then further refined through pilot builds to include DFM (designed for manufacturability) changes. We learn much about a product when we build the first ten; we learn much more when we build the next 100 to 1,000 pieces. This is the time that we start understanding how to tweak the design and processes to make it easier, quicker and cheaper to produce.
| | |
| --- | --- |
| Palomar Technologies Assembly Services is uniquely positioned to effectively aid in this process because we have decades of process engineering experience to draw upon as well as the engineers that designed the equipment in-house. We also understand our areas of expertise. We are not equipped to handle large volume production or to set up dedicated production lines for mass produced products. We can, however, validate everything required to get you there. | |
High-Volume Manufacturing
This is where the smooth transition to a volume manufacturer like Fabrinet comes in. Their facilities in both Thailand and now California's Silicon Valley can handle volume manufacturing, and dedicate cleanroom space for specific customers' products. They have labs for both customer specific products, as well as open labs where lower volume production can occur.
Their personnel are trained by our engineers that have worked on the pilot builds to get them quickly transitioned into production on often the very same equipment and tooling used in our lab. Any detailed questions can be easily answered, and Palomar's team of field service engineers can further aid in keeping the equipment in top notch condition. They can also aid with process related questions and further training as required.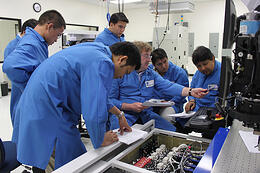 Recently, we had meetings with the teams at Fabrinet West to discuss this relationship and agree that we are not really in competition, but complementary in our offerings. Fabrinet West can handle higher production volumes while keeping the manufacturing in the United States. Fabrinet East exists for an even lower cost to manufacture.
Fabrinet can also do PCB design and surface mount component assembly, as well as turnkey operation handling the entire supply chain for you.
If you have a product in the early design stage, Palomar Technologies' Assembly Services is the place to start. If your product has a small production run cycle of a few dozen per year up to 100,000 per year, then Palomar Assembly Services can handle your needs. If your plans are greater, then Fabrinet is a great option for your organization.
For more information on contract manufacturing or field service, download these resources:

| | |
| --- | --- |
| Assembly Services Data Sheet | Field Services Data Sheet |
| | |
----
David Rasmussen
Assembly Services General Manager
Palomar Technologies, Inc.