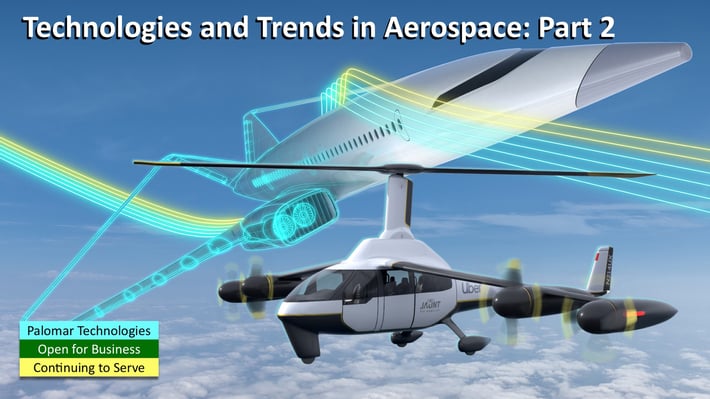 Our first blog examined the potential importance of three new technologies on the aerospace market over the next half-decade. These were chosen for both their importance within the sector, but also as being highly representative of other technologies and their expected impact. In this second blog, a similar approach is undertaken, but regarding four broad yet definitive trends affecting the entire ecosystem—these are identified in the table below, then subsequently examined in further detail.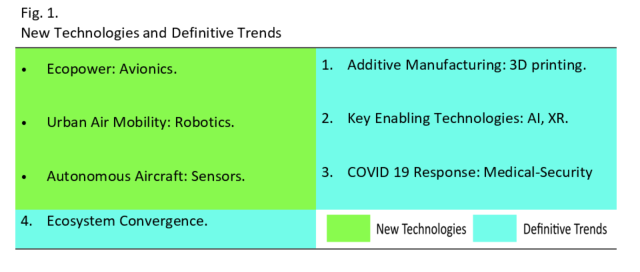 Additive Manufacturing: 3D Printing
In their July 2019 Aerospace and Defense update, PwC commented that "Metal 3D is rapidly developing and will soon disrupt many existing manufacturing processes and become a fundamental part of how metal products are made in the digital age." They are fundamental because of the following advantages/challenges:
Immediate process access
Production outside the supply chain
Extraordinary agility
Formidable potential
Rapid prototyping
Reduced component weight
Point of demand production
No need for part storage
Swift production of spare parts
Extremely efficient material use
Steps outside of supply-chain
Unlocks substantial value
High product customization
CAGR 20-25%


Within aerospace, additive printing is still in the early stage of development as the road to manufacturing integration is being mapped out. This mapping includes the economics of manufacture, the type of components best reserved for this type of production, logistics of production, the strategic design of the best 3D/additive manufacturing (AM) operating model, and regulatory requirements—not least those intended to stop the production of contraband. What adds to both uncertainty and complexity is the rapid evolution in technologies taking place in the background; these can rapidly shift both AM needs and their commercial parameters.
In January 2020, BAE announced a partnership with the Renishaw, including a 12,000 sq. ft. development center using AM and virtual reality for early-stage aircraft design and manufacture. The investment is part of the drive to deliver Tempest – BAE's next-generation future dual pilot/pilotless combat air system due for service in 2035. More broadly, Fig. 2. illustrates the type of reduction that AM is capable of delivering. For large-scale fighter programs such as Tempest, it could result in total savings of $20 billion and more if service and support are included.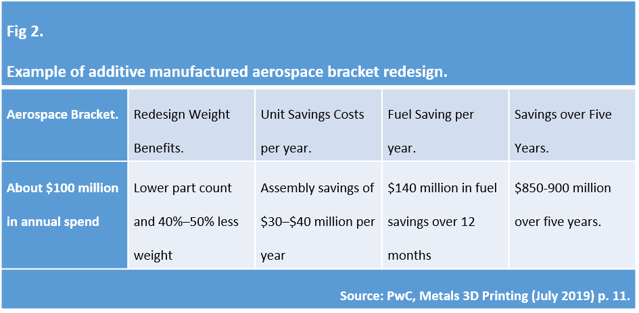 Key Enabling Technologies: AI, XR.
If there is a tendency in the media to exaggerate the importance of new technology or certainly amplify its potential impact, this is somewhat less the case with Artificial Intelligence. If anything, the effect is being understated. AI platforms are already being used extensively by the police and within the health industry, but also within security and military operations where it is used as a predictive agent, for example, in identifying what kind of behavior marks terrorist intent. AI is also currently deployed together with XR (existing and potential range of adjunct realities such as VR and AR) to augment advanced safety features in aircraft, to incorporate advanced capabilities/responsiveness into drones, and to replace human copilots in semi-autonomous helicopters and airplanes.
In 2016, a US Air Force pilot, Colonel Gene Lee, was defeated by artificial intelligence in an air combat simulation. This specific AI program, even deprived of certain controls, was able to react 250 times faster than a human being. While vital in military settings they are equally valuable in protecting civilian aircraft. Today's version is faster by at least a factor. Despite these advanced features and capabilities, AI is at the beginning of its emergence and only scratching the surface of the potential. In the next five years, we can expect significant advances that lead to new cybersecurity, user interfaces, a raft of unexpected products, services, and platforms (some of them highly disruptive) and "intelligent" parts, assets, and devices.
AI also means unprecedented intelligence processing capabilities. For example, crossing-referencing thousands of satellite images with data drawn from the "dark web" to extract vital information. AI means better protection for troops; contingencies to map and evacuate wounded personnel from the battlefield while simultaneously clearing/avoiding mined terrain— functions, in turn, delegated to robots and drones. AI means a more robust cyber defense capable of countering at very high speed the increasingly stealthy, numerous, and automated attacks threatening high-tech ecosystems and economies.
Medical-Security
At the most fundamental level, the COVID 19 pandemic will markedly affect the development of technologies that permit:
Permanently swifter response protocols across all vital ecosystems, including aerospace and defense.
Permanently heightened mass-surveillance capabilities—including individual movement and health screening at airports and travel hubs.
Mass medical-security technologies, including those aimed at prevention and decontamination.
Physical delivery technologies, e.g., robotics, automation, and autonomous drive.
Changes in the automation of logistics—especially industry 4.0 supply chains.
Unparalleled government support, promotion, and co-investment in AI. See (v).
While aspects of the research/development/technical implications of these six points that have been touched on here as they relate to the medical-security ecosystem, they will be explored in much greater detail in a blog more specifically devoted to this sector.
Ecosystem Convergence
Fig. 3. Converging Mega-Trends, Ecosystems and Ascendant Technologies.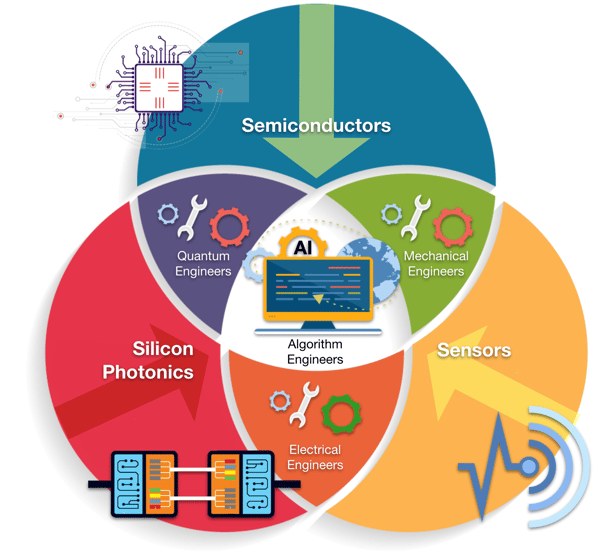 The final trend covered in this second blog is the convergence of several core ecosystems affecting aerospace—and, indeed, many other sectors.. The result will be an even faster pace in technological evolution, changes in direction, a swifter journey into the unknown, the unexpected, or even the revolutionary. Additionally, this convergence is at the center of driving high-tech commercial norms in the aerospace sector, making the ecosystem more porous on an increasing scale, demanding the efficiencies in legacy technology manufacturing, something now becoming standard across the industry.
Conclusions
Drawing these factors together, the challenge for medium-size vendors is not only about keeping up with the technologies driving aerospace but the implications of AI in particular since it lies at the center of the convergence. As a result, AI will have an increasingly significant impact on design, prototyping, initial packaging process and learning—but most fundamentally of all the A to Z of manufacturing. AI impacts every stage across and within the supply chain, from concept to full-scale production. If AI is forcing efficiencies, then the move to robotics, automation, and autonomous operation is pushing quality. It is the old story of the market demanding better, more quickly and at a lower cost.
Palomar Technologies has been engaged with the technological tributaries leading to these changes for over forty years. Our engagement and participation with customers at the core of the low latency manufacturing protocols utilized by our Assembly Services division and global Innovation Centers. These are the points where customer needs and designs can be refined and benefit from the expertise of knowing our machines and their capabilities together with seeming lateral knowledge that suddenly finds new applications. In times of uncertainly and economic pressures, these qualities are even more beneficial as we work towards our common goals together.
Further Reading:
"Industry Top Trends 2020: Aerospace and Defense,"

S&P Global.

----
Dr. Anthony O'Sullivan
Palomar Technologies
Strategic Market Research Specialist