Process Control and Monitoring
Process Control and monitoring are vital to any high-accuracy and precision wire and/or die attach application production. With strict environments and parameters required to perform a highly reliable "attach", control over and inside the process becomes key.
Palomar Technologies has developed several software tools to enable wire bonder and die bonder users to both control and monitor their process, achieving the highest yield and reducing costs.
ADMA

Automated Data Management and Analysis (ADMA) is a unified system that improves all aspects of process development and assembly life cycle, reducing costs through increased yield and improved resource utilization. By removing the paper factor from the lab data collection, mapping process, and implementing automated computer controlled traceability, ADMA ensures the clean rooms at Palomar Technologies work more efficiently than ever.
Bond Data Miner™
Bond Data Miner™ is the most well known and popular of all process control and monitoring software. Bond Data Miner™ (BDM) is applicable in both wire bonders and die bonders. This software tool is used to view and analyze all process data, providing part traceability, predictive process capability, and monitoring machine fitness. Additionally, it is used to calibrate and verify process setups.
During die attach processes, process control aids in:
Reducing time for steps
Increasing PR accuracy
Control of high-precision processes such as eutectic die attach are unique to Palomar Technologies. Palomar Technologies has developed a Pulsed Heat System that includes a variable size pulse-heated stage and high-powered controller for fast heat ramps tightly controlled heat plateau and cool down.
For wire bond processes, high-impact process control utilities include data collection, archiving and analysis, wire parameter logging for each bond, wire traceability for each bond, step-bond-repeat (aka "Links", linking the the master program to an array of programs) and Adaptive Bond Deformation (ABD trademark). Adaptive Bond Deformation software allows users to assign control limits for bond deformation and expected post heights. These control limits can be used to stop the bonder when limits are exceeded. enables direct and uniform control of ball deformation. This includes uniform ball bump height and/or bump diameter, allows reduced bond pitch for wire and bumps with better coplanarity, uniform stitch impressions, minimizes adverse impacts to sensitive materials for stitch and reduces process development time.
3880 Die Bonder Process Control
The ultra-versatile 3880 Die Bonder comes with a process camera allowing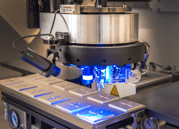 the user to gain real-time process viewing. While no data is collected, it has proven to be a valuable and popular tool among 3880 customers.
All Palomar Technologies bonders come with a rich set of process control and monitoring software features. New process control software is being developed on a continual basis as the needs of our customers grow and the variety of applications and bonder needs increase.
For additional process control software, please contact us.