Circuit Assembly announced on March 15, 2016 that Palomar Technologies' 3880 Die Bonder won the New Product Introduction (NPI) Award for Bonders. Circuit Assembly's NPI Awards recognize the leading new products for electronics assembly during the past 12 months. An independent panel of practicing industry engineers selected the recipients and then presented the awards during a ceremony at the IPC Apex Expo in Las Vegas.
The judges evaluated the submitted entries based on the following criteria: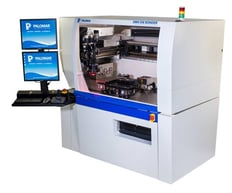 Creativity and innovation
Compatibility with existing technology
Cost-effectiveness
Design
Expected reliability
Flexibility
Expected maintainability/ease of repair
Performance
User-friendliness
Speed/throughput
The new 3880 Die Bonder, the latest addition to the Palomar Technologies suite of die attach solutions, combines fine placement accuracy, fast tool indexing time, excellent tool planarity, and position precision making it the most advanced die bonder platform available today. It features a new fully integrated Z-Theta bidirectional bond head enabling improved reliability and uniformity across a wide range of applications.
The new high precision bidirectional turret wheel ensures planarity of all pick tools without the need for individual leveling. This allows rapid tool changes without impacting process set up. Its large work envelope is ideal for a versatile automated die bonder capable of handling many different part types, presentation options, and application processes.
Among the innovations on this cutting-edge machine is the ability to hit Palomar's best accuracy and repeatability specs over a wider range of applications and conditions. This bonder is built upon a rich set of pick and place features, options, and capabilities. A complete redesign of the bond head incorporates a voice coil actuator, allowing for improved gram bond forces, improved linearity, and the bidirectional tool indexing which comes standard.
In addition, the 3880 Die Bonder is already compatible with Palomar's VisionPilot® vision system. It utilizes advanced geometric pattern matching technology to reliably and accurately locate parts. Even under the most challenging conditions, this exclusive Palomar Technologies software can significantly reduce or eliminate fixturing requirements and costs. For locating parts or features, VisionPilot provides the maximum inspection yield and reliability available in a vision system.
Download the following resources for more information:
| | | |
| --- | --- | --- |
| 3880 Data Sheet | Buyer's Guide eBook | VisionPilot Data Sheet |
| | | |
###
Media Contact
Katie Finney
Marketing Communications Manager
Palomar Technologies, Inc.
kfinney@bonders.com | +1 760.931.3680