This is the second part of the 8000i Wire Bonder Frequently Asked Questions and the third blog in the mini-series. This mini-series discusses the frequently asked questions for the 3800 Die Bonder, 8000i Wire Bonder, and the 9000 Wedge Bonder. Check back each week to see the most frequently asked questions for your favorite machines. Next week we will cover the 9000 Wedge Bonder.
What is the "Ergo Arm" kit?
The ergonomic kit supports both traditional keyboard track-ball and a large glove-touch compatible touch screen. It is ideal for complex programming and intuitive control of part builds. It allows for programming to occur from a seated position.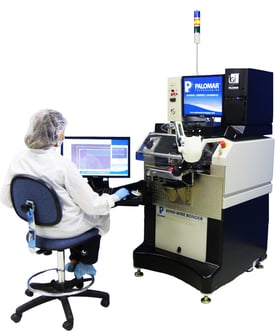 Can I receive training at my facility?
Palomar offers a number of training solutions:
4 day intensive, but general, operations and/or maintenance training classes are available at our Carlsbad, CA corporate facility

General or advanced training, all expenses included, on a daily basis at the customer's facility

Process Development Consulting – advanced process engineer develops custom processes either in Carlsbad or at the customer's facility
Can options be added to my unit after delivery?
Yes, every option is available for the 8000i Wire Bonder and can be installed at the customer's facility.
What is the shortest and longest loop the system can generate?
The shortest loop the system can generate is 10 mils, material and process dependent. The longest loop the system can generate is 600 mils, material and process dependent.
Can the unit 'reverse' bond?
Yes, to be fully MIL-STD compliant, reverse bonding requires the use of SoS (Stand-off Stitch) bonding.
Can the unit TAB bond?
Yes, this is a standard software option. To switch between normal wire bonding and single point TAB bonding, the system needs to be rebooted.
Will the wire bonds generated on the 8000i Wire Bonder meet and exceed MIL-STD-883?
Absolutely, generally by 2-3 times or more. This position is material dependent, but given the proper amounts/thicknesses of clean gold in the package, this bar is simple to achieve.
What are the facilities requirements for the 8000i system?

Input Power is 200, 208*, 220, 230, or 240 VAC +/-5%, 50 or 60 Hz, Single phase. *Factory default is 208VAC. Changing requires modifying the input tap on the main transformer.

Vacuum is 25", ¼" fitting.

CDA (Clean Dry Air) or Nitrogen – 60 psi +5psi, ¼" Quick Disconnect fitting. 7SCFM minimum, dew point suppressor, and <5um particle size filtering, oil free.
How long does installation take?
Installation and training takes approximately two days or less. Once the installation is completed by the Field Service Engineer, basic training is conducted on general calibrations and fitness testing.
What is the standard warranty for the system?
One year, all parts, labor, and travel expenses are included. Priority dispatch for all warranty customers.
Do you offer extended warranties?
Yes, a variety of extended warranties or 'service contracts' are available. Either 2 or 3 PM visit contracts can be booked for 1, 2, or 3 years after the initial first year warranty. You can keep adding years, up to three in advance, to lock in discounted pricing. All service contracts include unlimited emergency service, priority dispatch, all expenses included.
Are PM's (Preventative Maintenance) necessary the first year?
No, although you can add them to a unit at the time of order. Starting the second year, the 2 or 3 PM service contracts are highly advised to keep your bonder operating at full factory specifications.
Download these resources for more information:
8000i Data Sheet

Field Services
Data Sheet

Bonder Boot Camp
Data Sheet
If you have more questions about the 8000i Wire Bonder, please contact Katie Finney at kfinney@bonders.com. Don't miss our third and final blog of this mini-series next week addressing the frequently asked questions about the 9000 Wedge Bonder.
----
Bradley Benton
Regional Account Manager, Western Americas
Palomar Technologies, Inc.