Computer and software performance is vital to maintaining peak production performance, especially for complex hybrid manufacturing. Programming can become a nightmare, particularly when the number of wires runs into the hundreds and thousands. Our user-friendly Intelligent Interactive Graphical Interface® (i2Gi®) is an unparalleled feature implemented on the 9000 Wedge Bonder and the 8000i Wire Bonder that enables application engineers, programmers and operating technicians to work smarter, faster and with more control. This feature allows the management from part design and development, to process validation and finally to intuitive operations control.
Click to watch how i2Gi works:
i2Gi technology supports advanced wire bond control through three key critical command tools, which work in concert to provide a dynamic and intuitive user experience:
Part Tree Display: A familiar tree infrastructure displaying parent-child relationships between part elements for quick referencing of part design or program run process
Part Graphical Display: An interactive approach to ease the reference points between the program's tree structure and the Man-Machine-Interface (MMI) through such features as the ability to toggle between Part Graphical Display and the corresponding wire in the Part Tree Display
Video Graphical Display: the MMI with Cognex 8000 Series Vision engine with real-time video, plus a graphical overlay based upon the program build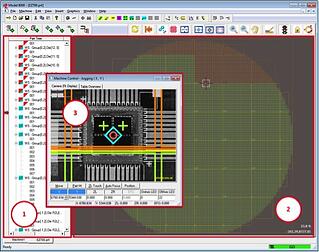 Need help or want to upgrade to i2Gi?
Palomar Technologies offers hands-on Bonder Boot Camp training courses for programming, operations and maintenance, including one-on-one classes for programmers new to Palomar Technologies' bonders and i2Gi. Performance upgrades allow you to extend the life of your purchased equipment and also take advantage of our ongoing efforts to improve functionality.
To learn more about i2Gi, check out the following resources:
| | | |
| --- | --- | --- |
| i2Gi Data Sheet | i2Gi eBook | i2Gi Demo Request |
| | | |
___
Katie Finney
Marketing Communications Manager
Palomar Technologies, Inc.