There was a time when our hi-rel customers would typically use what they called a "security bond" on the stitch bonds of their packages. This was an attempt to strengthen the weakest link in the bond which was the heel of the stitch bond. The security bonds were first achieved by doing another ball bond on top of the stitch and then a stitch off on an adjacent non-functional pad. This eventually evolved into just the ball bond being terminated at the top of the ball, or a "ball bump" security bond.
Around the turn of the last decade, many customers began to experiment with putting the bump down first and then terminating the stitch on top of the bump. About this time, we were working with several customers on this new approach which we called "Stand-Off Stitch" or SOS for short. We did a great deal of research with our customers comparing the Security Bond Method to this new idea of the Stand-Off Stitch. An example of this effort was documented in a joint paper byour now Assembly Services Manager, David Rasmussen, and the MEM's Manufacturing Process Engineer at the Goodrich Company, Rodney Thompson.
Since then, Palomar has put a great deal of effort into ensuring that the Stand-Off Stitch is easily available to program in our Model 8000i which includes our user-friendly intelligent interactive graphical interface, i2Gi® . Over the years, more and more of our hi-rel customers incorporate the Stand-Off Stitch into their processes with good and consistent results. Within the Aerospace and Defense Contractors industry, it has become a fairly standard process to use the Stand-Off Stitch and is now much more prevalent than the previously mentioned security bond, although Palomar still provides security bond as an option.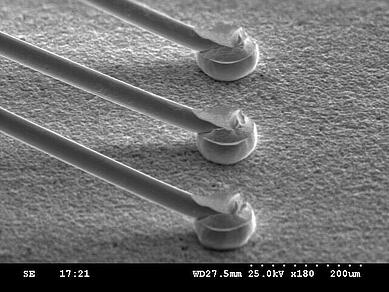 Our ability to form different bump sizes and shapes, due to our dual axis movement ball bond head (both Z and rotary motion), gives us an advantage in forming a bump that is easy to couple with a stitch bond and form a strong and reliable bond. You can also look at the deformation from bond to bond to ensure consistency and actually set upper and lower deformation limits to alert an operator, should the deformation fall outside of those limits. You can also utilize Adaptive Bond Deformation to achieve the same deformation each time you perform the bond, by automatically adjusting your bond time based on the deformation feedback loop.
This is a good example of Palomar partnering with our customers to improve quality and reliability in our systems and their parts. We have a very experienced and knowledgeable Assembly Services Department and an Applications Department that would be glad to work with you on any of the challenges you may be facing.
Download these resources for more information:
8000i Wire Bonder
Data Sheet
Wire Bond Pull & Ball
Shear Testing eBook
Assembly Services
Data Sheet
----
Dale Perry
Regional Account Manager, Eastern Americas
Palomar Technologies, Inc.