With any product, service is a key component. Where do you go when you need help with troubleshooting a product? What about training new people to use that product? How can the product be used more efficiently and effectively?
Over the past five years, Palomar service in Asia has experienced unprecedented growth. Palomar Technologies Asia (PTA) now has five times as many Field Service Engineers in Asia compared with five years ago. This large increase in regional Field Service Engineers is directly related to the increase of Palomar bonders located in Asia. In addition, last year PTA moved to a much larger office located in Singapore. This larger office is a multipurpose facility. The onsite lab provides regional bonder demonstrations, applications support and bonder training. This lab is also equipped with important supporting equipment such as plasma cleaners and pull and shear testers for both the wire and die bonders. In addition, this facility includes a spare parts depot to more quickly serve our customers in this region. In late 2013, the PTA lab was outfitted with an 8000i Ball Bonder. By the end of 2014, a 3800 Die Bonder will be added to the PTA Singapore location.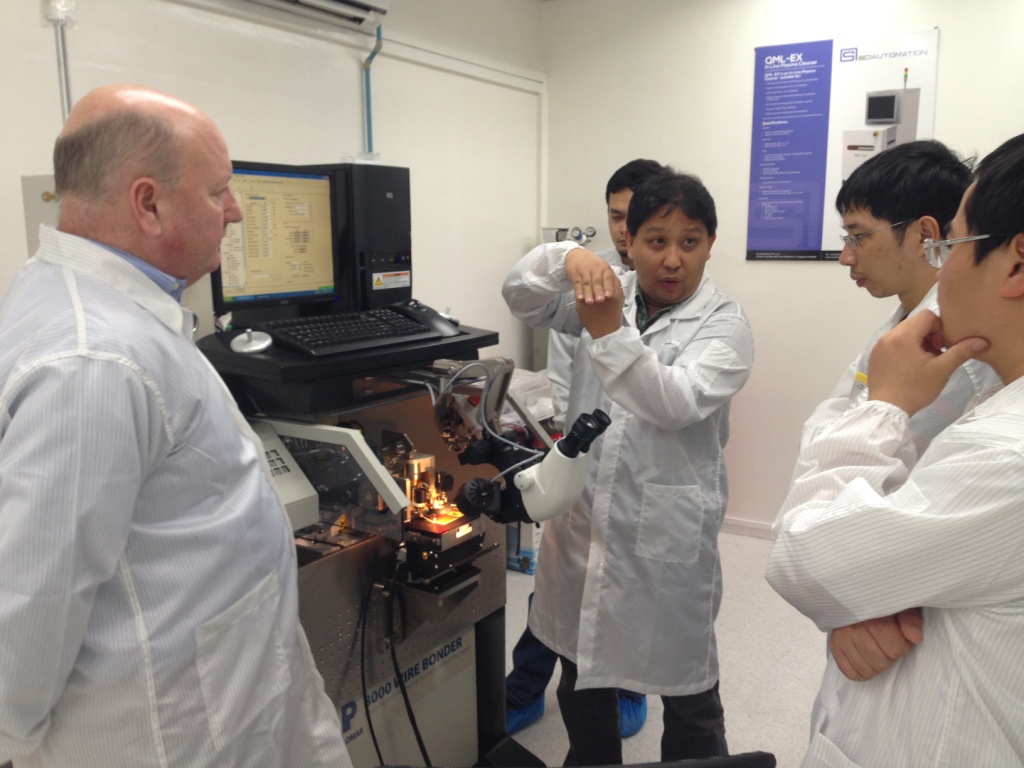 More Comprehensive Support
Palomar Asia has grown and reorganized to better support our Asia customers. There are now two service regions in Asia:
PTA Northern Asia service region: this region includes China, Taiwan, Korea, & Japan. Dennis Ng is the service manager for this region. Dennis Ng is a long term (14+ years) Palomar employee and has vast experience in wire ball, wedge and die bonding. There are also a number of directly employed Palomar Field Service Engineers that live and work in this region.
PTA Southern Asia service region: this region includes Malaysia, Thailand, Singapore, Philippines, Vietnam, Indonesia and India. Tony Lopez is the service manager for this region. Tony Lopez is a long term Palomar employee (13+ years) and has vast experience in wire ball, wedge and die bonding. There are also a number of directly employed Palomar Field Service Engineers that live and work in this region.
Extensive Availability of Service and Support
Owning equipment from Palomar Technologies doesn't begin and end with the purchase—we want to be a partner in your successful, long-term use of our bonders. Our commitment to service in Asia (and worldwide) includes the following resources:
Bonder Boot Camp Training Sessions – To continue production at your bonder's maximum performance capabilities, offered training courses led by Palomar Technologies bonder experts, covering system operations, programming and proper maintenance.
Service Contracts – Benefits of annual service contracts include three yearly preventive maintenance (PM) visits, emergency service calls with in-house bonder experts, discounted spare parts, priority overnight shipping of spare parts and bonder software updates (as needed). Annual service contracts are available to cover Field Services support visits once the first-year warranty expires.
Upgrade to the Latest Software and Hardware – Outdated bonder software hinders the ability to run production at maximum capacity and accuracy, and may limit your eligibility for Field Services support. Ensure your production is running with the most recent software programs through a Bonder Performance Upgrade (BPU).
Preventive Maintenance – PTI PC Backup and Recovery is a proven safety net for production computer data should there be a program-based data corruption or loss. The PTI PC Backup and Recovery hardware system will reinstall all software and program data to have your bonder up and running within minutes. Investing in the PTI PC Backup and Recovery is nominal in comparison to the potential financial losses associated with disrupted production by limiting downtime to mere hours rather than days or weeks.
Work with a Process Development Consultant – PDCs are your in-house resource to develop or optimize your production processes on your Palomar systems. PDCs are specially trained Palomar Technologies engineers with a complete knowledge of equipment, application processes and materials required to increase yield, throughput and equipment performance.
For more information on service and support, download these resources:
Field Services Data Sheet

Process Development Consulting
Data Sheet

Bonder Boot Camp Data Sheet
----
Tim Hughes
Director, Global Customer Service
Palomar Technologies, Inc.