Process is critical. Working with a team who can deliver process expertise and world-class equipment will offer many more choices and a much higher probability of success when it comes to production. In sourcing production for high-precision, step out of the box and evaluate all options.
Through our precision contract manufacturing services, Assembly Services microelectronic packaging solutions has responded to the economic realities of modern advanced packaging with its high equipment and labor costs, as well as the need for process development and low volume production. Our ability to offer high-value-added assembly services to our advanced packaging customers is just another facet of our mission to provide cost-effective and system-efficient solutions to our customers' component assembly needs.
| | |
| --- | --- |
| Palomar Technologies Assembly Services is positioning itself to further advance contract manufacturing operations. Over the last year we have added more production equipment and increased staff to allow higher capacity production capabilities. This will open Palomar to more domestic markets that need higher volume than we were previously willing to accept. This will also keep production in the USA, utilizing the best equipment in the world, supported by the best technical staff in the world for microelectronic packaging. | |
There are several companies that like our equipment but have no intention to build their own lab or develop in-house production capacity. There are also numerous contract manufacturers available, but many of them are tied to either specific programs or industries and have little interest in expanding to different markets. Additionally, there are few contract manufacturers with the technological capability and equipment capacity that could be utilized without requiring the high capital investment required to build an entire production lab. The challenges the customer faces is having the production capacity requirements and materials available to make the long-term commitment for most high volume CMs.
Palomar's experience with design, engineering, prototyping, assembly, automation and metrology means an organization is covered from concept to production. We apply ideas and solutions based on years of packaging experience to develop and validate an organization's process before investing in production equipment. Palomar Technologies is the only OEM in the world that can offer the same high-accuracy wire and die attach services that it applies to its equipment. Many customers start in our Assembly Services lab to build, test and qualify parts.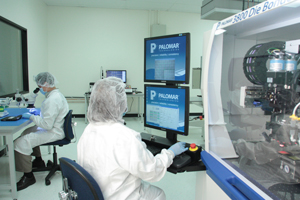 Palomar Technologies Assembly Services has proven this entire process; from prototype to pilot production builds of high accuracy optical communications devices to supply completed parts to the customers prior to moving to a full-scale high volume production at a sub-contractor in Asia.
Now, Palomar is offering the high volume production capacity in the United States. With this comes IP protection, in-house highly skilled engineering staff and technicians, and a high-reliability, ultra high-accuracy advanced packaging systems portfolio that is second to none in wire bond and die attach. Our Assembly Services management and engineers remain close to production; problems are solved rapidly, any downtime is significantly reduced, and the feedback loop is tightened, all while maintaining security of customer's IP.
| | |
| --- | --- |
| | The good news is that organizations can test the process expertise of a potential partner for a small investment and organizations can get actual part production as generated by that process and equipment. Equipment arrives to the organization with customized and proven programs already installed. It's worth noting that by this time, the product is already out on the market and proving itself. The understanding of what kind of equipment and processes required to meet customers' needs becomes much clearer. Additionally, the risk factor of the project goes down significantly. |
We also provide webcasts showcasing Palomar Technologies engineering experts right at your finger tips, leading you through high-reliability, high-precision systems and assembly processes to help you better understand the vast capabilities of our die attach and wire bond machines.
Palomar-led webcasts run between 15-45 minutes, truly offering an all-inclusive, first-hand tutorial on advancing technologies at the micron level. See below:
---
David Rasmussen
General Manager of Assembly Services
Palomar Technologies, Inc.