While the word "mothball" has a negative connotation in our world of capital equipment, the fact is that the very definition of mothball is machinery that is kept in working order so that production may be restored quickly if needed. The key here of course is "working condition". To maintain working condition, working directly with the vendor is critical to ensure the machines can be brought online when needed.
Mothballed capital equipment from every capital equipment supplier is found in nearly every factory clean room in the world. This can be new and old equipment depending on the circumstance of the factory user but most usually this falls into the category of "old" (greater than 6 years). Different companies have varied views on this issue which can include keeping the older equipment as backup, waiting for a new use of the equipment, or removing entirely the old equipment to make room for higher revenue producing equipment.
If your organization has old equipment on the factory floor that is no longer in use, one of the following situations may apply:
1) The vendor no longer supports spare parts or service
2) A new equipment vendor has been selected that performs better; your organization is phasing out the former vendor for better technology
3) This equipment was purchased for a program that was phased out; however, it is kept in the instance that the program or a similar program starts up again
Changes in program package requirements where the current equipment is no longer applicable also falls into this category
4) Your company was purchased by another company (change of direction, staff, location, etc.)
5) The equipment was damaged by a natural disaster such as a flood, but deemed recoverable with vendor servicing
6) This equipment is waiting for transfer to another factory site that has the need for this equipment
If any of these situations apply with a Palomar system in your organization and you want to bring it back online, please contact us.
2460, 2470 and 3500 machines
What has been startling about the old Palomar/Hughes equipment found running in factories around the world are their serial numbers that date back to as early as 1976. While we see Palomar 2460 ball bonders, 2470 wedge bonders and early 3500-I and 3500-II die bonder machines idle in factories, we see them more often up and running in full production – the users have kept these machines in working condition. Upon further discussion with these users, we learn some aspect of the life-story of this equipment (i.e. where it came from, what it did, and of course what it does today). The fact that this vintage equipment is still in production is amazing, but just as remarkable is the current engineers and technicians of this equipment who are almost always a full generation ahead of their original users. This new generation of users never had the benefit of a buy-off or formal training, and at the outset usually have no idea how to find parts or get support.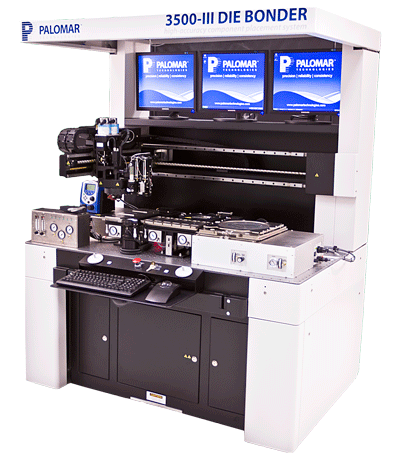 If you need support on a vintage Palomar machine, please contact us.
Support – As long as possible
Palomar Technologies is known for supporting our machines for as long as possible. Other vendors have been known to cut-off periods of service, typically 6 years after sale. At Palomar, there is no official cut-off dates for support generally. The only exception to this would be service contracts wherein we have cut-off dates (for obvious reasons): in old equipment there is no guarantee spare parts still exist at all. However, best efforts are made to source those spares and support that equipment.
Newer Equipment (< 8 years)
This mothballed equipment can also be much newer, usually taking the form of "equipment purchased for a program that was phased out". In these circumstances, hundreds of thousands of dollars can be saved by the factory users simply by upgrading their Palomar equipment with a bonder performance upgrade (BPU). This Palomar equipment can be brought back online at a fraction of the cost of a new machine and fully supported by local expert and direct field service engineers.
Furthermore, field upgrades including automation are possible: inline handling systems, wafer stages, wafer punch ups, tape and reel kits, automated eutectic handlers and even full integration of 3rd party equipment into an advanced assembly line.
Direct Support – US, Europe, Asia
Palomar's three strategic locations in the US, Europe and Asia enable us to provide this kind of longterm direct support. For example, Palomar's Asia HQ based in Singapore has a growing spare parts depot to support its rapidly growing installed base and a highly trained team of field service engineers to support the equipment. This spares depot and team are backed by our global HQ in Carlsbad, CA USA.
---
Richard Hueners
Director of Sales and Marketing
Palomar Technologies, Inc.