Handlers are bonder options that can bring great value and efficiency to your assembly
process. For example, on the 8000 Wire Bonder, various automated handler types and magazine loaders can be added to increase yield and throughput and reduce operator intervention. The 8000 push-pull handler allows the user to fully utilize the large work area of the bonder by splitting it into two separate loading areas. As the operator loads each side separately, the bonder is able to run without interruption, thus maximizing throughput. Either a single part or multiple parts can be loaded into trays off-line and introduced to the bonder while it is in operation on the adjacent work space. Once the respective tray is loaded, the parts are raised, clamped (mechanically or with vacuum), and preheated while the other side is being bonded.
Uses for Handlers
Common applications that require a handler cover a wide variety of markets, from RF to automotive, as well as military to medical. The type of application requiring a handler could depend on volume or the desire to be "hands-off". In terms of wire bonding, the handler provides a heating component which adds complexity to the wire bonding process. In die bonding, the handler uses epoxy or eutectic die attach.
Epoxy die attach is a consistent, reliable form of component attach. The popularity of hybrid microcircuits is partially due to their built-in flexibility and small package size. Aerospace and Defense, Medical and Optoelectronic device manufacturers have integrated the hybrid package in order to achieve multiple-need and performance requirements. With rapid time-to-market needs, automating the packaging process becomes necessary. Automated epoxy dispense systems have kept up with these advances by maintaining a high level of control, handling and sophisticated process control software.
Eutectic die attach is a highly controlled die attach process for high reliability, high accuracy requirement devices. To achieve high yield, sophisticated heating and cooling mechanisms are employed. This includes software that heats and cools according to a very strict parameter line.
Handler Types
Some of the different types of handlers for wire bonding processes include in-line, push-pull (semi-automatic with trays), dual magazines, and magazine to magazine. Some die bonding types include in-line, indexing, tape feeders, waffle-pack feeders, wafer die ejectors (punch-ups), and the HotRail Radio Frequency Assembly (RFA). In last week's blog, RF device packaging on a hotrail handler configuration was discussed. As mentioned in that blog, the HotRail RFA provides precision juxtaposition of die with steady-state heat eutectic processing, resulting in consistent wire loop bonding profiles from bond to bond.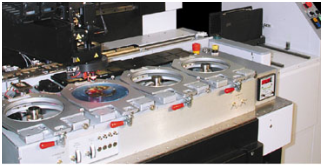 Advantages of Handlers
| | |
| --- | --- |
| Handlers can be customized from the standard handler, or as we like to call it: "standard-based custom styling". The purpose and advantage would be to have your handler customized to your specific requirement. The key advantages of a handler are three-fold: the presence of a handler reduces contamination, cuts the cost of operators providing lower labor costs, and increases quality of product due to the elimination of major human interference or error. | |
Watch the Video: Automated RF Assembly with Handlers on the 8000 Wire Bonder
----
Allan Hass
Director of Engineering and Operations
Palomar Technologies, Inc.
William Forsythe
Program Manager
Palomar Technologies, Inc.