The increasingly densely populated and higher power levels of RF & Optoelectronic packages are creating unique challenges for assembly process engineers. Both eutectic and adhesive attachment processes are faced with smaller component sizes, more closely spaced components, and a need for lower voiding content. As a result, solder or epoxy outflow may affect the position and attachment quality of adjacent components, or it can contaminate the top surface of these components. Die attach equipment must be capable of handling these demanding requirements without compromise to quality or cycle time.
RF & Optoelectronic packages continue to shrink in size with less space for die. Power densities are increasing as well. Packaging engineers are exploring a switch from conductive adhesive to eutectic solder attachments on high power components. Lower power components still allow adhesive attachment but have their own challenges due to tight spacing.
Adhesive Attach Options
Adhesive attach is common in a large variety of packaging applications and relatively well supported in the industry. Adhesive is typically applied by means of screen printing, pin transfer, or dispensing. Pin transfer is usually performed directly on the die attach equipment and offers excellent control over adhesive volume. This method is preferred for components below 0.25mm [10mil] x 0.25mm [10mil], particularly if placement accuracy and proximity to other components is critical. Similar to dispense patterns, pin transfer patterns can be optimized to ensure proper distribution of the adhesive for each component. Pins are offered in various sizes and geometries and range from a single pin to multi-point pins to improve throughput.
Eutectic Attach Options
Eutectic attach options vary depending on the material interface and part geometries. It is important to note that some of the eutectic processes do not require two or four-sided pick tools. For these processes, surface pick tools may be selected depending on the configuration of the die.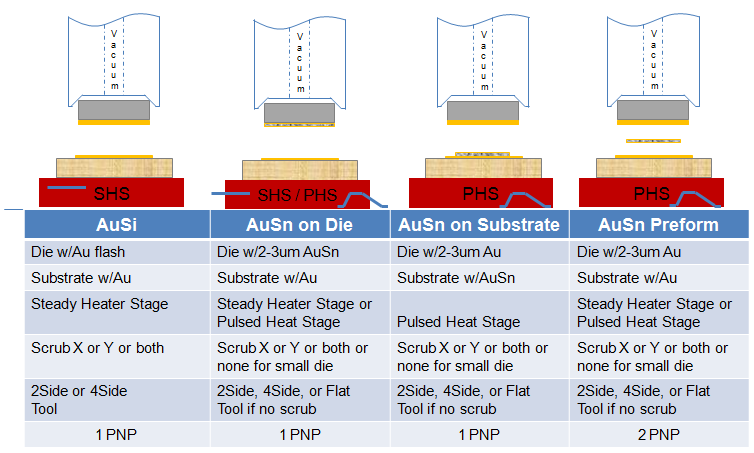 AuSi – an Au backside metalized Si die and Au metalized substrate. The AuSi solder is generally formed using a Steady Heater Stage (SHS) and a scrub tool. Scrub occurs when moving the XY axis of the die attach equipment while holding the die on the substrate. Although less common, AuSi preforms can be used as well.
AuSn on Die – an AuSn pre-metalized die and Au metalized substrate. This process can occur using an SHS or Pulsed Heat Stage (PHS).
AuSn on Substrate – an AuSn pre-metalized substrate. This process generally requires a PHS so that reflow occurs only when the die is placed. An SHS can be used as well although this causes the AuSn to melt and change composition before the die is placed.
AuSn Preforms – AuSn preforms to provide the solder. This generally requires a PHS although a SHS can be used as well with favorable results. Die attached with preforms require two pick-and-place operations per attachment.
| | |
| --- | --- |
| | |
Eutectic solder volume is a critical parameter in the attachment quality. The main measures of quality for solder attach include bondline thickness, voiding content under the chip, and solder outflow past the chip. Improper solder volume can lead to excessive outflow and higher voiding percentages.
Learn more about RF & Optoelectronic Packages:
Mixed Attachement Technology Studies
in RF & Optoelectronic Packages
Requiring High Accuracy Placement
RF, Microwave and Optoelectronic
Packaging Die and Wire Bonding Case Studies

Automated Assembly Tool for
Precision, High-Speed RF Die
Attach Applications


----
Daniel Evans
Senior Scientist
Palomar Technologies, Inc.
Zeger Bok
Senior Applications Engineer
Palomar Technologies, Inc.