SEMICON China celebrated its 25th year, held this year at the Shanghai New International Expo Center on March 19-21. Mr. PH Chan, Palomar Technologies Asia managing director, was onsite at the show to discuss automated wire bonding, die attach and full factory automation requirements.
8000 Wire Bonder on Display
An 8000 Wire Bonder with an integrated push/pull automated handler was available for live demonstrations throughout the duration of SEMICON China in the BE FIRST booth, with supplemental information available also in the Asia Science & Technology (AST) booth.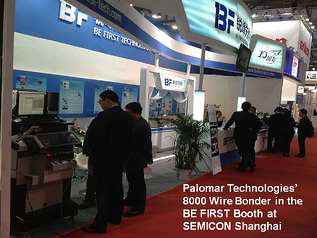 Palomar Technologies' 8000 Wire Bonder is a fully automated thermosonic high-speed, ball-and-stitch wire bonder capable of ball bumping, stud bumping, wafer bumping, chip bumping, and customized looping profiles. As the assembly method of choice for first level interconnection, it is suitable for many aspects of packaging and component assembly, including complex hybrids, MCMs and high-reliability devices. The 8000 Wire Bonder is versatile, powerful and can provide specialized functions in addition to its primary functions, such as fully automated hybrid production lines.
The Model 8000 Pus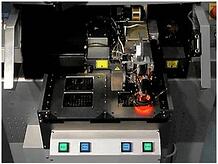 h-Pull handler allows the user to fully utilize the large work area of the bonder, 6.0" x 12.0", by splitting it into two separate loading areas, each 6.0" x 6.0". As the operator loads each side separately, the bonder is able to run without interruption, thus maximizing throughput. Either a single part or multiple parts can be loaded into trays off-line and introduced to the bonder while it is in operation on the adjacent work space. Once the respective tray is loaded, the parts are raised, clamped (mechanically or with vacuum), and preheated while the other side is being bonded.
| | |
| --- | --- |
| The 8000 Wire Bonder continues to be the most versatile, deep access, high-speed wire bonder on the market today. Because this machine is so versatile—and because its installed base is so large—new developments for odd form or deep packages, improved yields, and improved overall package quality for greater efficiency and reduced costs are continually reached and well documented. | |
This becomes important in the context of factory automation. Factory automation is a cost-effective and resource-efficient solution for many complex microelectronic assembly challenges. Islands of Automation is a term for individual processes, such as component attach or wire bond performed within an independent, automated work cell; the packages are fed automatically through the work cells via a system of process carriers (boats) and magazine handlers. The value of an island of automation is through greater production flexibility, faster product changeover, and often less integration time than an in-line system. Although, In-Line Assembly Lines—in which packages are fed automatically through the production line via a system of process carriers and magazines in the same way as an island of automation—render higher volume, low-mix assembly of a single type of product with minimal or no product changeover and greater yield due to reduced operator contact with the product and materials. The 8000 Wire Bonder is designed for scalability in automated factory production of complex/high-mix microelectronic device packaging.
----
Janine Hueners
Marketing Specialist
Palomar Technologies, Inc.