March 03, 2017 – Today, SST Vacuum Reflow Systems announced the introduction of a new vacuum/pressure reflow system – Model 518.

The new Model 518 rounds out SST's range of radiant heated vacuum/pressure reflow furnaces. Positioned between the existing Model 1200 table top and Model 5100 production level furnaces, the 518 provides the right combination of features and value to create void-free, flux-free microelectronics packages.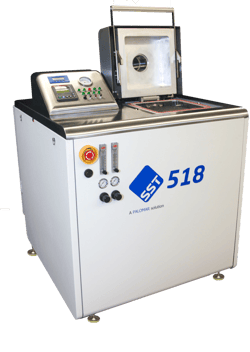 Precision applications of vacuum, pressure, temperature and force create these microelectronics packages with high yields, fast production cycles and repeatable processes. Model 518 is at home in R&D labs as well as in high mix/low volume production facilities.
Graphite tooling and heating elements provide unmatched temperature uniformity and precise control over the heating and cooling cycles during production runs.
This single chamber batch furnace is full featured, but is available with numerous options to enhance performance and increase its flexibility.
As with all SST Systems, Model 518 is supported by SST's Total Process Solution™, providing process development, recipes, tooling, and training to ensure your system is productive the day it is installed.
SST's Model 518 will be on display at Semicon Shanghai Mar 14-16 2017. Please visit us at Booth W4 – 4543.
For over 50 years, SST Vacuum Reflow Systems has been designing and crafting the systems and processes needed to create void-free, flux-free microelectronic packages and high vacuum hermetically sealed packages. Its global customer base is serviced from Downey, California, USA, where all systems are created and assembled.
For more information please contact SST Vacuum Reflow System at 562-803-3361 / email sales@sstinternational.com.
---
A.J. Wilson
President
sstinternational.com