With today's rapidly changing technology, time-to-market is one of the most important factors for product success. The ability to rapidly develop and test photonic chip assemblies and implement fast production ramp-up are key to delivering a quick ROI needed to maintain pace with technological changes. Often times, the cost of equipment, lack of manufacturing expertise or even the lack of engineering/technical staff can hinder even the best ideas from ever being developed or tested, let alone becoming a commercial product. The economic realities of modern, advanced photonics chip packaging with the capital equipment requirements, clean room needs and labor costs, along with the need for process development and low volume production are hurdles that can be overcome by outsourcing to a photonics packaging contract manufacturer.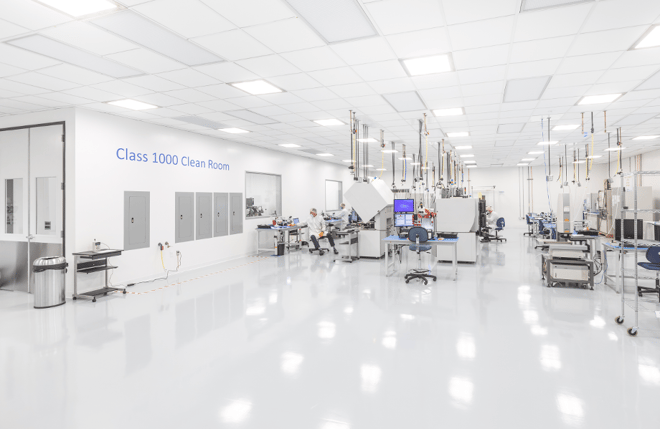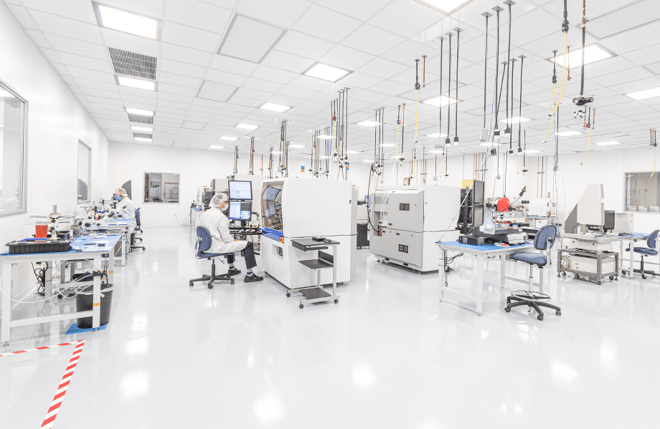 Outsourcing part or all of the R&D, development or production can be the answer to reduced costs, rapid ROI and meeting time to market demands. The advantages of outsourcing are many:
New product introduction – Shorten the time to market by outsourcing the process development, process maturation, rapid prototyping and creation of a sustainable path for fully automated high-volume production at launch.
Capital equipment - Try out new designs and new process without the expense of buying capital equipment needed such as bonders, pulsed heat tools, ovens/furnaces for thermal cure of epoxy assemblies, freezers, test equipment for wire pull, ball shear, die shear and optical measurement equipment.
Clean room – Eliminate the need to invest in the clean room requirements necessary for precision, reliable photonics chip assembly.
Increased manufacturing capacity – Get immediate access to manufacturing expertise and increased capacity without expensive increases in staff.
Focus on core competencies – Focus on your core competencies – research, marketing, sales, etc. – while experienced engineering, purchasing and technical staff handle the R&D, test and production for you.
Process improvement from prototype to production - Should you decide to invest in your own production level assembly, outsourcing helps you to bridge between prototyping and production. A good contract manufacturer will work with customers on their processes, materials and tooling with a focus on optimized design for optimized manufacturing to reduce yield losses, while improving efficiency and manufacturing throughput.


Palomar Technologies Innovation Center is a full-service advanced packaging laboratory providing solutions for process development, prototyping, test, and contact assembly services. From die attach to wire bonding through package assembly, test, measurement and even prototyping and process development, the Innovation Center can provide everything from a complete outsourced manufacturing environment to expert prototyping services and process optimization leading to equipment purchase.
Offering turnkey die attach and wire bonding services, the Innovation Center provides state-of-the-art contract manufacturing of semiconductor packaging using Palomar Technologies high-accuracy, large work area and high reliability automated wire and die bonders, SST Vacuum Reflow Systems high reliability vacuum reflow ovens, precision dispensers, state-of-the-art test and measurement equipment from Nikon, Keyence, XYZTEC and robust plasma cleaning technology.
Innovation Center applications engineers develop your process in-house or devise a Research & Development partnership. Innovation Center highly skilled in-house engineering staff and technicians remain close to Palomar Technologies design and manufacturing engineers, providing a close feedback loop and reducing any downtime. Our goal is to get your new product accepted in the market and prepare it for high volume production.
If you need rapid prototyping to small production runs (1000's units per week), contact Palomar Technologies Innovation Center.
S

ome of the Palomar Technologies Innovation Center Experience
Optoelectronics / Photonics - Lens attach, Lasers (VCSEL, EEL, EML, LED), TIA and Driver, Silicon Photonics, LIDAR, Optical Sensors, Distributed Acoustic Sensing, Printheads, TOSA / ROSA, Passive Alignment, Active Optical Cables, MOEMS, Infrared Imaging, Microbolometers, 3D Sensing
Bio-Medical – Optical Coherent Tomography, Implantable Devices (Pacemakers, Hearing Aids, etc.), Blood Oxygen Analyzers, Genomics, MEMS
Aerospace and Defense - RF Microwave modules, Avionic Control Systems, Flight Hardware, Missile Guidance, High-Reliability MEMS
Automotive - Pressure Sensors, Accelerometers, Gyroscopes, MEMS, Power Modules (IGBT, GaN on SiC)
Telecom - Multi-Channel Communications, RF Wireless Power Amplifiers (RF LDMOS, RF GaN)
Download these resources to learn more:
Innovation Center USA brochure
Innovation Center Asia brochure
Palomar Demonstration Lab - UK
----
Rebecca Janzon
Global Corporate Communications Director
Palomar Technologies, Inc.