The following blog is the third in a series of eight examining Current Trends in the Opto-micro-electronic and RF Packaging Eco-systems, giving readers a glimpse of our shared technological future, as well as hints regarding Palomar's product development roadmap. The views represented are entirely those of Dr. Anthony O'Sullivan Palomar Technologies, Strategic Marketing Specialist. Dr. O'Sullivan will gladly field questions and comments.
#3 Rapidly Changing Market Dynamics.
In October 1992, the author of this blog signed up to become one of the first users of AOL. My modem had a speed of 9,600 bps. Little did I understand the revolution that my $12.99 a month was helping fund. Though I did know I wanted more of the same. Thus, as soon as it was announced, I was impatient to own the new 14,400 model. At that time Amazon, Facebook and Google did not exist. Apple shares traded at around $1.50, and even at that price, somewhat nervously. Now, twenty-six years later, three of these companies now rank 1, 2 and 4 respectively in the world. Their collective stock value exceeds $2.7 trillion dollars. If they were a country on their own, only the US, China, Japan and Germany would be bigger. $1000 in Amazon stock at the IPO would make you a millionaire today.
These financial trends are indicative of one clear and unambiguous fact—technologies that were once highly marginal to the global economy, now stand not so much central to it, as utterly definitive. Yet, it is far more than just about technology. Other companies with equally potent potential, such as AOL or Blockbuster, have now faded from existence. This informs us that technology without on-going commercial engagement is but hollow invention. Just as commercial engagement without delivery, is mere propaganda. That having been stated, the most important explanation as to why these companies became so successful—and consequently ubiquitous—is because they learned to create, then service, acute needs extremely well. These companies have made technologe a living necessity. One that constantly raises the aspiration of customers and non-customers alike. Indeed, what they offer, inspires the entire globe. Some may consider such an analysis empty hyperbole, but Hollywood does not make films about failure.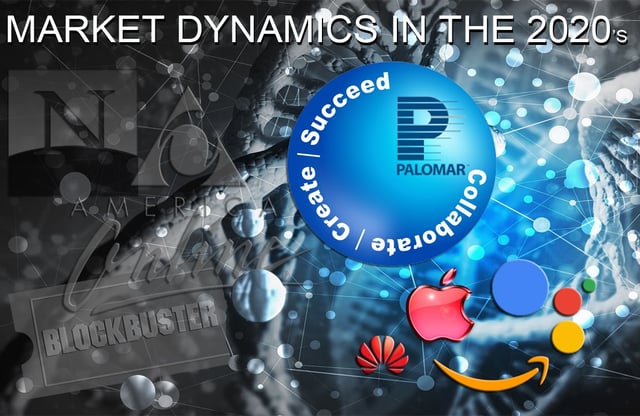 In short, these corporations are not only successful, but represent a new type of company: One which is more consumer matched, more agile, and possessing a different type of collective intelligence, than those whose dominance they came to replace. As for "power" these top four tech investors have an ability to spend that is entirely commensurate with their $2.7 trillion valuation. Such influence impacts the commercial decisions of nation states, let alone markets. As a result, these giants can single handedly dictate a change in the direction of the entire technological freeway, and, just as importantly, determine fundamental commercial dynamics on all lanes. Not least, this includes essential terms of business—including the implicit expectation that would-be vendors embrace their business ethic. Practically speaking, this has a number of very significant implications: Firstly, it places pressure on first-order suppliers to reduce costs, improve quality, constantly shorten delivery times, step-up customer service, and so on. It is vital to note that these requirements are, in turn, passed on to second, third and fourth order suppliers, and so on. It could not be any more profound that this—the entire market is shifting to accommodate buyers' operating standards.
That having been acknowledged, it is vital to understand that this is not primarily about leveraging supply or demand dynamics to push down prices, but, rather, part of the expectation that flows from living in an environment of continuous improvement, growing agility, continuous betterment in manufacturing efficiencies, and ever growing and more sensitive engagement with customer needs. In this way these mega-corporations set in place a whole raft of new market standards that are very rapidly becoming normative for everyone else: A supplier that can successfully meet the agility and timing protocols set, for example, by Apple, is, in turn, marking its products as a "safe haven investment" for smaller, yet often still multi-billion dollar corporations. The mantra then moves down the supply chain: "Only if it is good enough for Apple, is it good enough for us."
Yet, there is even more to be said. Agility also underscores the underlying evolution (and imminent and hitherto-fore unexpected appearance) of new types of technical and business offerings that previously would have made no innovative or economic sense. One of the key, and somewhat unnerving characteristics of these corporations is their determination to push what we may term "radical technological disjunctures". This is not the extension of an existing idea, but the constant push towards something previously unknown. As one analyst puts it, the energy of this entire sector portends a whole range of new technologies and markets, "some of which are so different that they have yet to be conceptualized". Looking beyond the technological horizon, raising the bar of customer expectation (standard of service and quality of experience), improving products, and ever more engaged customer liaison, is only to be welcomed by companies such as Palomar. We not only accept the challenge, but positively welcome rising standards across the entire spectrum. It is a beneficial drive to commercial fitness—of the kind upon which athletes thrive—pushing us to new personal bests, individually and corporately.
---

Dr. Anthony O'Sullivan
Palomar Technologies
Strategic Market Research Specialist