In this second blog on pressure-less silver sintering, we set out aspects of the development work we undertook at our Innovation Center in Singapore to establish silver as an effective lead-free solder substitute, an equally viable alternative to gold. In the first part of this blog, we cited fundamental metrics across a broad range of issues to establish the advantageous elements of silver solder in terms of price, physical properties, and range of applications. Here, we will focus on the particulars of practical application and development. In terms of equipment, we used a Palomar 3880 Die Bonder retro-fitted with a Musashi high-speed jetting dispenser. In terms of materials, we used a GaN die (5232.4µm x 876.3µm x 108.4263µm), a 2x2 inch gold coupon, Ag sinter paste and a custom vespel pick and place tool.
Our goal was to secure the repeatable production of a controlled, highly accurate, consistent bond line thickness (BLT) or "Fixed Height BLT" using silver paste. In other words, a uniform silver sintered adhesive layer deposited across the bonded area upon which to place the GaN die. Every aspect of the deposition process was critical—even small inconsistencies could produce peel stresses resulting in reduced adhesion strengths. A line that is too thick will result in increased resistance negatively impacting electrical performance. On the other hand, overly thin bondlines tend to cause voids, adhesive starvation, and de-bonding which can significantly undermine long-term device performance.
The further challenge was then to develop "optimal" bond line thickness. In part, this requirement depends on the type of adhesive. We started with an approximate figure of about 70% bond height before sintering. For the samples used in our case study, this translated into 50µm before sintering and 30µm after sintering. These parameters were recommended by the supplier of the Ag sinter and based on the type of paste used. Included in our application process was the need to match the quantity of available Ag material to the gap between the surfaces and their bonding conditions (heat and pressure). A slight overfill was desired to ensure that the gap was totally populated. Earlier trials also found that adhesive would squeeze out of a local area if there was a high spot in one of the adherents.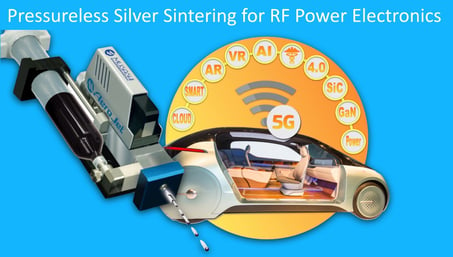 The next issue was compensation and control—which in turn was predicated on securing effective metrology. Gauging bond line thickness can be variously measured, for example, by taking die height after bonding/after sintering (using a digital microscope) and subtracting the thickness of the die (measured before bonding/pre-sintering). Height measurement can also be secured with either the focus-variation or 3-D scanning. Regardless of the chosen instrument, the bond line thickness should be measured at different positions to evaluate uniformity. Measured touch height was used to determine the height of the bonding surface prior to the post-reference height check. The intent was to calibrate the bonder with physical tests; this was followed by software simulations to better understand and more successfully ensure the repeatability of the die bonder's subsequent packaging process.
Finally, an evenly flat surface with sufficient roughness was judged necessary for an accurate, correct, and repeatable BLT. While flat and rough objectives may sound contradictory, they are not. Typical RF substrate surfaces are designed to be "rough" in order to ensure material can be placed consistently, tacked, and fused to the board. Any variable in these factors will not just affect measurement, but the measured height upon which it is predicated, and finally the BLT height itself. Collectively, these determine the accuracy of the post-reference height measurement. As noted above, we used a flat gold-plated coupon—a common test vehicle that was both sufficient to our needs, and effectively mimicked a typical RF substrate.
We eventually discovered, however, that jet dispensing on its own proved insufficient to achieve a fixed height bond line with yield consistent, low-void results. As a result we were pushed to develop a proprietary Fixed BLT software that was able to solve this problem. This was the breakthrough that allowed for fundamental advancement and the overall success of the project.
In the next blog, we will give more information about our Fixed BLT software, as well as the nature and advantages of jet dispensing (compared to other processes for deposition) before concluding with some details and pictures of the successes we achieved.
To learn more about pressure-less silver sintering for RF Power Electronics, download our technical article: Energy and Eco-Sustainability using Pressure-less Silver Sintering for RF Power Electronics.
Read the first part of this blog:Pressure-less Silver Sintering for RF Power Electronics, Part 1 of 4