Auxiliary wires are commonly defined as an additional wire outside of a normal ball-to-stitch wire bond. Whether it be a pre-wire, generally referred to as stand-off stitch, or a post-wire, also known as a security bump, Palomar offers several options for our customer's diverse applications.
The motivation behind the use of auxiliary wires is the inherent weakness of the stitch bond. Due to the much smaller contact area of the stitch to bond pad, therein lies the challenge of successfully bonding the wire to non-optimal bond pad metalizations. The decreased reliability of the stitch bond can negatively affect the tearing of the tail at the stitch bond, resulting in inconsistent free air ball sizes during flame-off. Marginal materials, risk of contamination, and non-optimal intermetallic bonding have motivated manufactures to improve stitch bond strength and reliability.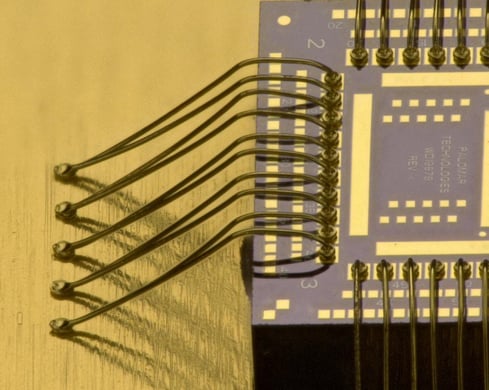 Figure 1- Forward Bonded wire with low loop height and secured with a security bump placed over the stitch bond.
The earliest attempt to make improvements on the stitch bond have been with the use of a security wire or safety wire, which has been an asset for decades. This is essentially a second wire with the first bond being placed on top of the stitch of the previously bonded wire. The security wire will then need to have its second bond terminated to another area or on the same bond pad if room permits. The security wire was eventually phased out due to the Industry's continually growing need of smaller packages and the ever decreasing space available for termination of the security wire. To reduce this second bond termination area, the security wire is often replaced by a singular ball bump - otherwise known as a security bump or post-wire. The security bump, however, is not a perfect solution as it lacks a completely homogenous interconnect with boundaries at the bump to wire interface and the bump to substrate interface.
Palomar Technologies has written an article on how to use Auxiliary Wires. Read the remainder of the article by downloading it below.
| | |
| --- | --- |
| Improve Wire Bond Capability and Reliability through the use of Auxiliary Wires Technical Paper | 8100 Wire Bonder Brochure |
| | |