The COVID-19 situation is a textbook "black swan event" for the world. The unprecedented nature of this crisis makes it difficult to forecast near-term. To support our global customer base as a manufacturer of precision packaging and assembly equipment, and a service provider of contract assembly services, getting the timeframe of recovery right is imperative. Global macroeconomic indicators and trending themes are a good place to look for possible answers to how semiconductors and related technology businesses will emerge after the COVID-19 crisis.
It is our view that China will be the first to recover fully and will likely provide a demand surge for advanced packaging suppliers. Data centers are under increasing levels of stress as work-from-home and video conferencing consume large amounts of bandwidth 24 hours a day. IR Sensors will become increasingly ubiquitous as a key tool in mass temperature monitoring. Accelerated by governments, 5G wireless will be implemented more quickly as its worth is played out in real-time in cities like Wuhan, which are 5G enabled.

Source: Palomar Technologies
We are looking at the following data points to assist in our 2020 COVID-19 forecasting:
China manufacturing, new exports, and employment
Internet traffic growth and related Data Center supporting businesses
IR sensing, specifically remote temperature sensing using thermopiles and microbolometers
5G acceleration supported by governments as the new "social distancing" reality sets in


China's Return to Work - Manufacturing
The official China PMI jumped from 31.8 (February) to 50.9 in March (source: National Bureau of Statistics China), the largest jump on record. While this does not mean manufacturing in China is back to its pre-COVID 19 state, it does suggest that China is getting back to work rapidly. As noted in the Employment and New Order PMIs, this confirms that demand is still under pressure and employers are holding back on hiring until there is a return of the normal business. This information plus what we are hearing from our customers leads us to believe that China will be the first to recover fully albeit the pace at which demand (exports) returns from the West will certainly moderate this recovery. Given the preponderance of doom and gloom news around the world, China is the bright spot right now.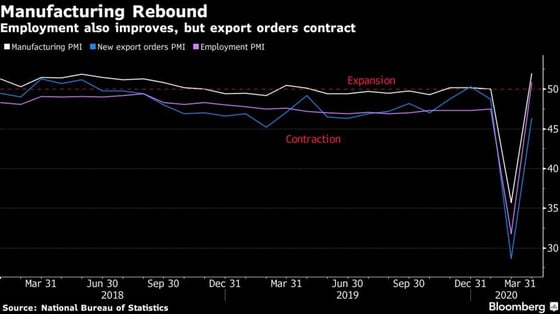 Source: Bloomberg
Internet Traffic and Data Center Demand Increasing
Referring to the work-from-home status of the world and the resulting ubiquitous use of video conferencing to conduct everyday work, this has contributed to a surge in internet traffic. Over the past several weeks, the CDNs of the world have reported this surge in traffic. As you can see from the graphic below from Akamai, traffic growth started in February as the first wave of countries in Asia confronted the coronavirus. In the US, Cloudflare reported a 20% surge the day President Trump declared a national emergency. Here you can see a live update from Data-Economy of how the data center world is dealing with the pandemic.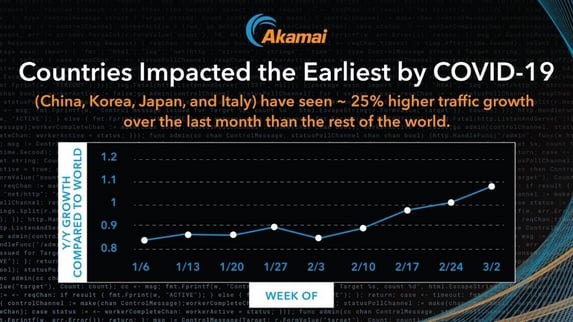 Source: Akamai Technologies
Micron announced this week that their revenue for this quarter would be above analyst estimates because of the world's shift to work-from-home/learn-from-home. The stellar performance has been from data center customers demand more memory. As a corollary, DRAM prices are increasing as well.
The infrastructure that supports this growth in traffic and the data centers that support them includes many of us in micro-optoelectronic packaging industries. Not surprisingly, over the past few weeks, we have experienced an increase in demand for sample builds and production-ready die bonders and wire bonders.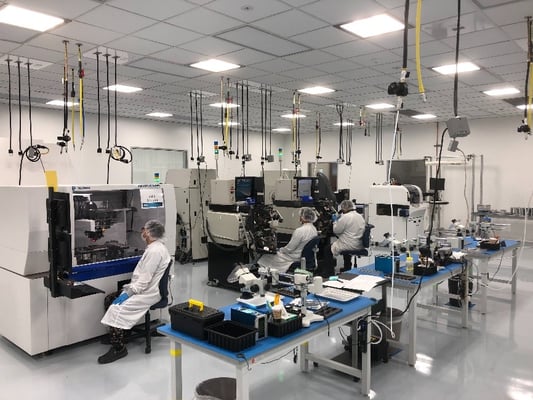 Image: Palomar's factory April 1, 2020; source: Palomar Technologies
Remote Temperature Sensing in Mass
The proliferation of IR sensors is an obvious but critical area of increased demand over the past 6 six weeks for countries and cities battling COVID-19. We anticipate that IR sensors, both microbolometer, and thermopiles, will scale up quickly as every door/room may require some kind of an IR sensor. These sensors record temperature data and relay that information back to a central medical database where AI software makes immediate decisions. This increases the load on wireless networks, bandwidth and computing power.
One practical example of this an AI + sensor system developed by Baidu. The IR sensor can detect the forehead temperature in as many as 200 people a minute within a range of 0.5'C. Set up at a railway station in Beijing, the system immediately alerts authorities if a fever is detected. Likewise, drones are being deployed affixed with IR sensors to perform the same mass temperature scanning.

5G Wireless push by Governments

As consumers draw down and prepare for an impending recession, the growth of phones and mobile devices will not be the near-term driver for 5G. Instead, it is our view that governments will drive implementation of 5G networks. We are aware of the many 5G use cases presented over the last few years, but now we can see in practice how 5G can be a major assist in this new COVID-19 world of social distancing, remote monitoring, remote diagnostics and remote control of medical equipment.

Source: Straits Times
In early March at the Smart Field Hospital in Wuhan, peoples' temperatures were screened using 5G thermometers; the hospital patients wore AI-enabled bracelets to track their vital signs and robots delivered food and medicine (source: CNBC). These robots also were used to disinfect surfaces and equipment with UV light, guided by LiDAR technology. Not surprisingly, sales for these items are booming.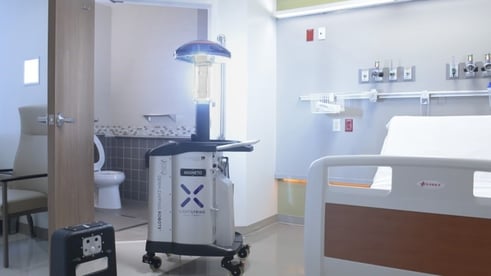 Image: Xenex robot using UV light to disinfected large areas. Source: Xenex Disinfection Services
Conclusion
While this is a difficult time for the world, many businesses are working with readily available manufacturing and engineering know-how to build these critical, life-saving technologies. It may be that COVID-19 helps to spur a technology revolution.
Given that, Palomar Technologies, with our roots in the Aerospace & Defense industry, have expanded across automotive (LiDAR & power modules), medical, microwave, RF/wireless, Datacom, telecom and a few niche markets. We support some of the largest Datacom companies around the world, working closely with their R&D to production.
Palomar's mission is to create simple solutions for complex processes. With today's rapidly changing technology, time-to-market is one of the most important factors for success.
Download these resources for more information:
Innovation Center - USA Brochure
Palomar 3880 Die Bonder Brochure
SST 8301

Automated Vacuum Pressure System Brochure
----
Rich Hueners
Vice President, Global Sales & Marketing
Managing Director, Palomar Technologies (SE Asia) Pte Ltd