"Traditional defense organizations must adapt in order to keep the nations they serve safe. The world now exists at an economic, strategic, and technological inflection point. Global economic power is shifting, bringing strategic challenges and changing relationships, while technological breakthroughs, such as artificial intelligence and robotics, are evolving rapidly."
Overcoming Today's Challenges for Tomorrow's Security, PwC.
"Economies need to brace themselves for the shifts brought about by the technology wave. There is an imminent need to start building ecosystems focused on infrastructure and up-skilling the workforce … actively developing their digital technologies and connectivity …"
Jenny Sofian, CEO of Fullerton Fund Management, Singapore.
"On the defense side of the industry, the situation surrounding COVID-19 appears less dire, with demand protected by budgeted government spending and a supply chain with minimal exposure to hard-hit jurisdictions such as Asia."
COVID-19: What it means for the aerospace and defense industry, PWC.Ecosystems comprise the range of factors that define the limits of any given environment. In terms of aerospace and defense, this principally reflects the interaction of local priorities, events, global politics, and international relations. At a practical level, the following are equally important:
Supply and demand
Commercial goals
Business behaviors
Technology
Government initiatives
Government response
Manufacturing methods
Competitor behaviors
Market porosity
New entrants
Investment confidence
Consumer confidence


Disruption and innovation are different sized events varying in impact—from peripheral to changing everything. None of these factors or trends are equal in value, nor static in effect. What might create an impact today may be wholly absent tomorrow and vice versa. Even before the COVID-19 pandemic, the word "complexity" did not do justice to the current stream of factors shaping the aerospace and defense ecosystem. Given today's circumstances, a grasp of their fundamental influence and impact has never been more essential.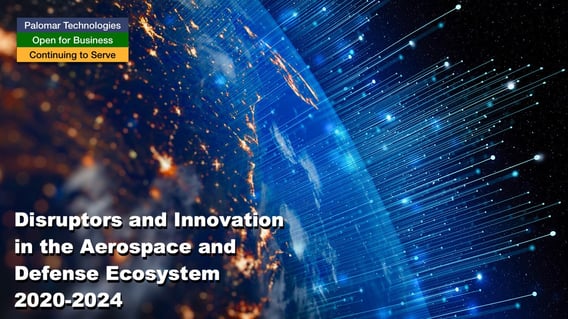 While even the intermediate impact of the current crisis has yet to be felt, the global response portends a potentially seismic shift in general business behaviors as well as equally profound changes in geopolitical realities—including concomitant national outlooks and defense strategies. In short, the economic impact will be enormous. For aerospace—and airlines in particular—the outcome will be a fundamental restructuring of the industry. If the pandemic proves an annual event, travel recovery will be many years away, with it a 25 percent fall in demand for new aircraft. Some alleviation comes as some passenger jets are retrofitted for cargo—one of the few areas of growing demand. Sales of private jets have also surged with companies like Bombardier reorienting away from its commercial division.
As a direct extension of government activity, defense remains somewhat protected and will continue to be so for the near future. Not least, this is due to changes in the global balance of power. While most people are aware of changes in geopolitics before the coronavirus, few grasped the extent of its impact, even less the military, investment, and strategic corollaries. Central here will be the West's general sense of underdevelopment in advanced technologies together with a need to update defense strategies but also develop the security, medical and other equipment now revealed as necessary by the current pandemic emergency.
These technologies, together with other "smart" devices, are part of a complex ecosystem of their own. The critical factor to note is their interdependent, evolving, and mutually enabling nature. The result of advancement in one significant technological area can exponentially advance many others. We have all heard of KETs (Key Enabling Technologies). 5G is the most acute example; the new generation mobile cellular network allows the high-speed, low latency transmission of information, but it is also directly responsible for a huge leap forward in the development of AI. AI, in turn, advances information processing in ways that allow other technologies to take giant leaps forward, for example, in the development of quantum encryption.
Without the support of real-time information—and so without the ability to intelligibly interact—the speed and processing power represented by AI is reduced to mere potential. In both defense, internal and medical-security needs, this is where sensors and sensor processing provides the bridge. Sensors are the cornerstone of vehicle autonomy and navigation, allowing robotics and remote devices to revolutionize security, medical-profiling/screening, tactics, and military intervention. What needs to be underscored is the vast scale of this seismic event, on the same scale as when sail-ships gave way to steam-power. But today's examples include drone and counter-drone technologies, remote health surveillance and on a more truly defense level, NOMARS (no manning required ships), and unmanned surface vessels (USVs). This is not the end of the story, however. New commercial attitudes are joining radical hardware changes. This is especially true in regards to investment and efficiency, changes that again will be significantly amplified in the post-pandemic global economy.
Military and security demand for the swift development of ultra-advanced technologies creating a new array of defense capabilities is making it much easier for non-traditional suppliers to break into the ecosystem and establish a significant foothold. The urgent need for surveillance and medical-security devices has significantly increased this porosity. Now that these companies have a foot in the door, they have substantially raised the bar of commercial and competitive practice.
New entrants will drive a more speedy implementation of Industry 4.0 than was initially anticipated through the application of KETs in everything from design to development, to full-scale manufacturing, to both ultra-tech and legacy technologies. The bottom line is the bottom line; very significant improvements in development—and especially the speed of development, prototyping, manufacturing, timing, delivery, and price. Defense departments across the globe had already grasped these principles and were entrenching their requirements in the latest procurement models. This was especially true in the US, where a flat defense budget for 2020-2021 meant additional scrutiny for value and efficiency.
Finally, it is essential to mention that decarbonization remains a global priority, by affecting aerospace more than defense, at least in the short term. It needs to be underscored that the COVID pandemic has so far deflected neither the EU nor China from reaching their carbon emission targets, and both will press ahead with as much urgency as ever. While most carbon-producing parts of the global economy have been reducing emissions—and are doing so on an exponentially rising scale —the airline industry has escaped these pressures. This was because the carbon footprint per passenger is much lower than that of the automobile driver, but also because reducing jet emissions faces very significant technical challenges. For short-haul flights of less than 500 km, the ultimate solution lies in electrical powered prop airliners, the first of which is due to fly commercially in 2025. Developing battery storage and power efficiency will be critical here. Part of this process will be making aircraft—and their engines—out of lighter materials, but far more significant will be advances in power technologies and electrical engineering. For long haul flights, the challenges, while significantly greater, find robust engagement among key players, including Airbus, BAE, Boeing, NASA, Raytheon, Rolls-Royce, and Safran.
Taking these factors together, the impact on the overall ecosystem is clear. Aerospace and defense companies wishing long-term engagement in their current markets will need to change and invest. There will be a raft of internal upgrades—especially in digital technology and connectivity—and changes to a business philosophy that will allow them to stay up-to-date and compete commercially. But more importantly, they will need to invest in R&D, using some of the brightest minds in the world to innovate and develop the next generation of KETs as post-COVID, agility, responsiveness, and innovation are more vital than ever.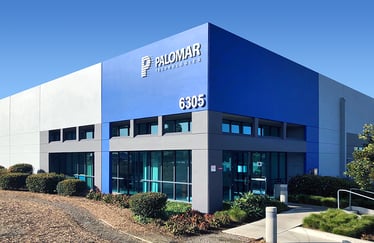 With its foundations in the Hughes Aircraft Corporation, Palomar Technologies is positioned to grow our contract manufacturing services through the expansion of our Assembly Services/Innovation Centers around the world. Our unique business model enables us to work with current and future giants in our industries with a clear focus on taking them from prototype to production of tomorrow's technology through our design, process development, and contract manufacturing. We work with the R&D departments of three of the five top internet providers and the top five defense contractors in the world. Our strategy is to maintain our focus on being a Total Process Solution provider of both capital equipment and services for advanced optoelectronic and semiconductor packaging. To support this growth, Palomar recently moved to our new headquarters in Carlsbad, expanding to over 110k square feet of manufacturing and contract assembly laboratories, all dedicated to meeting our customers' needs.
Further reading:
----
Dr. Anthony O'Sullivan
Palomar Technologies
Strategic Market Research Specialist