Bradley Benton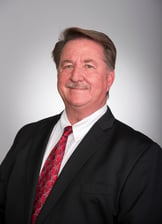 Bradley Benton began his career at Hughes Aircraft (Tucson, AZ ) in 1983 as a member of the Technical Staff in Automation and Process Engineering at Missile Systems Group. In 1986, Mr. Benton moved to Hughes' Industrial Products Division (Carlsbad, CA) as a Design Engineer. There he managed the Applications Engineering group and then moved into Sales and Marketing for Palomar Technologies (formerly Hughes Aircraft).
With more than 33 years of experience in the field, Mr. Benton is a recognized expert in microelectronic assembly processes, specifically ball bonding and wedge bonding. Additionally, he holds a patent on Bond Signature Analysis, and has published several papers in trade publications and professional societies.
Mr. Benton studied Electrical Engineering and Physics at the University of Arizona. He currently resides in Carlsbad, California.
Contact
Bradley Benton, Regional Account Manager
2728 Loker Avenue West, Carlsbad, CA 92010
T: (760) 720-3795
F: (760) 931-5191
Email: bbenton@bonders.com