A short case study in the shift from manual to automation is a good reminder of where we came from and where we are going in technology. It can also provide for us a blueprint of what might be ahead.
While most everything is automated today, it's important to drive home the message that automation is the keystone through which a company can enter into profit. Automating with the right partner (and the right systems) will enable a cost-effective solution and allow your firm to virtually print money by pushing a button. Using the example of the optoelectronic boom of the late 90's and early 2000's, specifically the power amplifier supply/demand issue, will help explain the migration from a manual to an automated process.
Power Amplifier Supply and Demand is around us every day. Although most people will never "see" a power amplifier, all mobile cell phones and other smart devices are routed through them. Also referred to as "power transistors", these devices are usually no larger than a penny (and are getting smaller). Their purpose is to amplify the microwave radio transmission of voice and data to provide enough radio strength to cover a geographic area. They reside on circuit boards located in the base stations near every cell antenna. They essentially enable voice and data transmissions to mobile handsets.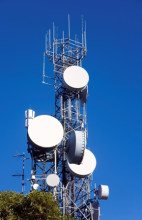 Even with technology significantly more advanced than it was 5 years ago, cell phone users are still "dropped" in certain areas. Any cell phone user can testify to the frustration that this causes. This frustration turns into greater demand for more communication transmission stations (as shown to the left). An obvious correlation to demand for power amplifiers is the demand for wireless connectivity, which in turn is the demand for mobile devices. With consumers' seemingly endless demand for more and more features (video, music, streaming internet) on their mobile devices, the power amplifier is in for a long bull market.
Ten years ago the wireless connectivity market was growing at breath-taking speed. Well established broadband infrastructure providers such as Ericsson and Motorola manufactured most of these units (power amplifiers) but struggled to keep up with demand. To meet the supply need, silicon-wafer based manufacturing houses were contracted to provide supply. These small firms were most often small manufacturing houses equipped for short run, manual production processes. Not surprisingly, with manual processes, they were stretched to the hilt to meet the high performance requirements (of the above-stated established firms) while also fighting to stay above water in the rigorous world of high-volume production and efficiency. These combined factors forced them to consider automation.
Automation in power amplifier packaging was nothing new. Before this "boom" time it simply was never a direct need of everyday consumer technology. Automation for this technology was primarily used in the defense and aerospace industry.
So what lies ahead? Communities not audiences, digital not analog, wireless not wires, small and even smaller power amplifiers.
Automated Assembly Tool for Precision,
High-Speed RF Die Attach Applications
technical paper.
| | |
| --- | --- |
| | Guide to Automated Production Lines |
----
Claudia Haskin
Marketing & Communications Manager
Palomar Technologies, Inc.