Geometric Pattern Matching Software for Die and Wire Bonding
VisionPilot® utilizes advanced geometric pattern matching technology to reliably and accurately locate parts. Even under the most challenging conditions, this exclusive Palomar Technologies software can significantly reduce or eliminate fixturing requirements and cost. For locating parts or features, VisionPilot provides the maximum inspection yield and reliability available in a vision system. VisionPilot is available for die and wire bond.
VisionPilot for Die Bond
From learned reference points using Radar Referencing®, VisionPilot is able to locate a randomly oriented die from the first fiducial and subsequently finds the second fiducial based off that angle—for example, the above die was found at -45 degree angle.
VisionPilot for Wire Bond
Built upon and using elements from Cognex® Vision Engine's powerful PatMax® software, VisionPilot is designed for implementation across Palomar's suite of wire bonder platforms. VisionPilot is the unrivaled best-in-class vision technology for wire bonding.
Benefits of VisionPilot for Wire Bond:

Finds images at +/- 180 degree compared to +/-7 degree for auto correlation
Less light sensitive
Less light sensitive to part variations
Radar Referencing theoretical pixel accuracy is 1/40 vs 1/10 for auto correlation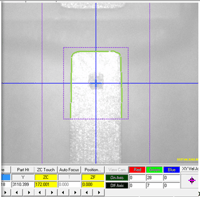 This is a typical example of a flat round horizontal pin fiducial and how Radar Referencing zone parameters are set to accommodate different package/pin suppliers with different pin widths. Standard Algorithm (Autocorrelation) would not accommodate the pin width variations and pin imperfections.
Increase Production Throughput with
1-Point Radar Referencing
1-Point Radar Referencing
Unlike with traditional auto correlation which does not utilize image angle, VisionPilot with Radar Referencing finds image XY location and angle orientation at the same time allowing higher machine throughput by using only one reference to find a die.
2-Point Radar Referencing
If two-point referencing is preferred, VisionPilot will more closely estimate the location of the second reference location based on the position and angle of the first reference thus improving the referencing success rate.
See Radar Referencing in Action: Watch the Video