In wire bonding, a gold ball is forced down and thermosonically bonded to a die-bond pad forming the first connection of an integrated circuit (IC) and substrate. With the ball connected, the wire is fed out and attached to a second surface, and then torn off to complete the connection.
In the ball-bumping process, instead of making the second connection with a wire loop and stitch, the wire is removed after the ball is connected to the die. A new ball is formed and the process repeats as necessary on all the die bond pads. Gold-ball bumping can be a one-step process, but can involve two steps if a coining process is needed to planarize the ball bumps. Once the die is completely bumped, it is flipped and attached to the substrate, providing the first-level interconnect as well as protection for the active die surface. Gold-ball bumping (stud bumping) can be accomplished with commercially available gold wire bonders using a 1-mil gold wire.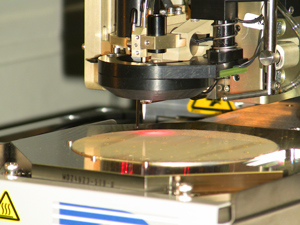 Some applications which utilize gold bumping:
Digital signal processors
LEDs are attached with a gold bump and flip process
Large wafers with CMOS image sensors and high I/O counts requiring 30 to 40 bumps
Super high-frequency RF receivers
Some applications require 550 bumps on a 2-in. long die that can make a connection in a single flip
Critical medical and space applications
High-end automotive processes such as motion sensing and airbag deployment
Coplanarity
An important factor for gold bumping for flip chip is coplanarity, which refers to
height consistency that exists across the top of all bumps. Height variations become a problem because this leads to an uneven distribution of forces, die fractures and open circuits. Each ball bump must be exactly the same height so that the top and bottom touch the die and package evenly. If one is higher than another, the shorter one will not be touching. In order for the die to function properly, each bump must be connected.
Benefits
Conductivity – reduced interconnect length; lower inductance=reduced loss and power requirements. Gold also has conductive advantages over solder.
Size – as packages become smaller, bumps must be used to maximize space.
Reliability – reduced thermal coefficient of expansion (TCE) issues encountered (when using gold bumps on gold substrate). It is a clean process that can be done easily in-house or by a contract manufacturer
Improve with age – monometallic gold bonds improve with age and do not suffer the same aging failures as solder processes.
Download these resources for more on gold ball bumping and the flip chip process:
----
Janine Hueners
Marketing Specialist
Palomar Technologies, Inc.